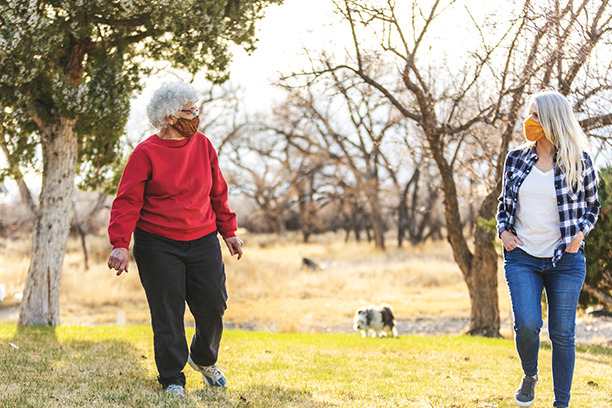 Respite Care in Detroit
At Visiting Angels® Detroit, we understand that family caregivers are often in a sensitive situation when they decide to take on the role of providing care for a loved one. After all, they only want the best for their loved one and may feel that it is their duty to step up during their time of need. However, many family caregivers take on more than they can handle and become overwhelmed as their loved one's care needs increase over time. Respite care can be an invaluable option for these caregivers in Detroit. Our care offers assistance and support with caregiving, allowing family caregivers to take time off to tend to their own self-care needs and giving them the opportunity to rest and recharge.
In-Home Respite Care Services in Detroit
It's not uncommon for family caregivers to encounter the negative effects of caregiver burnout. Burnout can stem from social isolation and emotional exhaustion, leading to feelings of anxiety and frustration. When family caregivers have a respite care provider from Visiting Angels Detroit to step in when they need support, they can gain peace of mind that their loved one is always in safe hands and avoid the consequences of burnout.
Respite Care Options for Detroit Area Families
Since we offer a wide range of senior care services and tailor-made care plans, you can rest easy knowing that we're capable of accommodating your loved one's care needs. From mobility support and walking assistance to homemaking and compassionate companionship, our professional care providers are prepared to assist in a multitude of ways.
Here are a few of the care options that your family can choose from:
Temporary Care. Temporary care provides seniors with support when their primary family caregiver is unavailable during a planned vacation or emergency situation.
Part-Time Care. Part-time care relieves family caregivers from their caregiving duties for a few hours per week.
Support Care. Through support care, our professional providers work alongside family caregivers to assist with delivering comprehensive senior care.
Detroit's Respite Care Experts
At Visiting Angels Detroit, we make it easy to get started with our respite care services in Detroit. In order to give you all the information you need to decide if our locally owned and operated care agency is the right choice for your family, we'll come meet with you in person for a free care consultation. That way, you can learn more about our services as we get to know your loved one's specific care requirements and your family's scheduling preferences.
Get started with respite care today by contacting Visiting Angels Detroit to set up your free care consultation.
Serving Wayne and Oakland Counties
Visiting Angels DETROIT, MICHIGAN
11000 W McNichols Rd #217
Detroit, MI 48221
Phone: 313-272-8282
313-272-9401