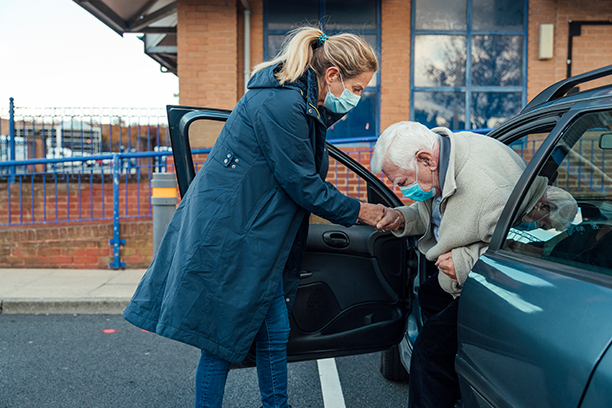 Senior Care Agency in Detroit
Tips For Aging in Place
Most seniors want to age at home. Staying at home offers enormous independence and freedom to our family members, even when they struggle with the challenges of aging. At our senior care agency in Detroit, we can help you look after your loved one. With comprehensive care services, we make sure clients always have the support of a trusted, professional caregiver.
We can also offer recommendations on helping your loved one to remain at home for as long as possible. One great way to do that is by upgrading and improving accessibility in the home.
3 Home Upgrades To Help Seniors Age In Place
At Visiting Angels® Detroit, we know most homes simply aren't built for maximum accessibility. The good news is, there's plenty of inexpensive ways to improve safety, convenience, and accessibility throughout your loved one's home. From our senior care agency, here are a few recommended home upgrades:
Improving bathroom safety. Unfortunately, bathrooms are a frequent site for falls and other accidents. That's why we recommend brightening and increasing overall lighting in this room. It's also a good idea to set up grab bars near the toilet and the shower. A shower seat can also help your loved one navigate this area confidently.
Increasing mobility around the home. You'll want to create clear, clutter-free paths throughout the home. If possible, make sure no electrical cords are on the floor. This might mean replacing lamps with wall sconces or other wireless lighting options. If your family member has furniture with sharp corners, corner guards can be a great investment.
Targeting inaccessible areas. For most seniors, reaching for tall shelves or bending to reach low cupboards may be impractical or impossible. Try to group important items away from these areas. Think about installing DIY extendable shelving, pull-down bins, or other storage compartments which reduce any strain.
About Our Senior Care Agency in Detroit
For over 15 years, our senior care agency has provided flexible, attentive support services for local families. We're committed to helping seniors age in place on their terms. Whether your loved one needs occasional assistance around the home or they require more involved support, we can set up caregiver visits in:
Detroit
Oak Park
And throughout the surrounding region
Safety, convenience, and comfort are always priorities with our senior care agency. Learn more about our services by calling Visiting Angels Detroit today.
Serving Wayne and Oakland Counties
Visiting Angels DETROIT, MICHIGAN
11000 W McNichols Rd #217
Detroit, MI 48221
Phone: 313-272-8282
313-272-9401