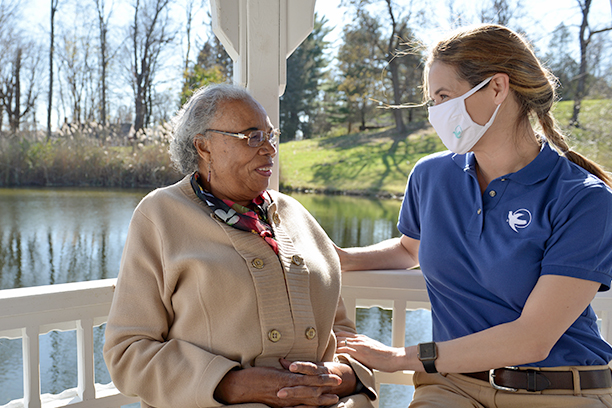 Alzheimer's FAQ in Douglasville, GA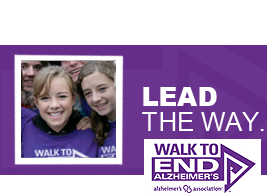 What Are My Loved One's Best Options for Elderly Home Care Services and Alzheimer's Care in Douglasville?
Truthfully, it's never easy receiving an Alzheimer's diagnosis. More often than not, an overwhelming amount of questions form in your mind. For answers to those questions, read through our Alzheimer's FAQ section, compiled by our Visiting Angels Alzheimer's care professionals. We offer elderly home care services that are compassionate and dignified.
What is Alzheimer's disease?
Characterized by cognitive decline, memory loss, and behavioral changes, Alzheimer's disease is a degenerative, progressive brain disorder. Typically, over time, symptoms worsen, requiring elderly home care services. At present, there are approximately 5.5 million people in America that are living with Alzheimer's, most of whom are over 65 years of age.
Usually, those with the condition have an average life expectancy of 4-8 years after diagnosis, as Alzheimer's disease is a terminal condition. There have been, however, a few instances of people living upwards of 5-20 years post-diagnosis. Presently, Alzheimer's is the 6th leading cause of death in the U.S.
What is the difference between Alzheimer's and dementia?
Dementia is, in fact, a commonly used umbrella term that encompasses a wide range of brain disorders, specifically those characterized by memory loss. Although it is true that people who have Alzheimer's do live with dementia, not all individuals with dementia have Alzheimer's disease. However, the most common form of dementia is Alzheimer's and about 60-80% of all dementia cases are indeed Alzheimer's.
What are the risk factors for Alzheimer's?
Several risks have been identified by medical researchers in regards to Alzheimer's. The three biggest risk ones are:
Genetics.
Advanced Age.

Heart Health.
Other risk factors include exposure to air pollution, a history of head trauma, heavy smoking, heavy drinking, sleeping problems, and high-stress levels.
What are the symptoms of Alzheimer's?
There are many symptoms associated with Alzheimer's disease. Most are expressed through a person's behavior, thought, and speech patterns, especially early on in the disease.
The most prominent symptoms of Alzheimer's include:
Trouble solving simple problems
Becomes confused about the current time or place
Short-term and long-term memory loss
Forgets words or begins mixing up words
Uncommon struggles with day-to-day activities
Loses items or becomes lost more frequently
Confuses the names and identities of people
Is more irritable, acts irrationally, or is more depressed than usual
How does Alzheimer's disease progress?
Right now, Alzheimer's researchers think that the disease starts before symptoms present themselves, several years, in fact. These signs typically begin to appear in older years. Yet, in many cases, symptoms of Alzheimer's disease have been noted as early as a person's 40's or 50's.
The signs of Alzheimer's are often mild in the beginning, having little to no impact a person's life. But, as the condition progresses, things change, and symptoms can quickly turn from mild to moderate to severe. In the final stages of the disease, the person may lose all ability to understand speech or speak, short and long-term memory, as well as the ability to perform basic personal activities like feeding themselves or going to the bathroom.
Does Alzheimer's disease have a cure?
At the moment, there is no known cure for Alzheimer's. It is, in fact, a progressive condition that is believed to be irreversible. Nowadays, however, there are modern treatments that can slow the condition's progress or even delay initial symptoms.
With the goal of prevention or delay in mind, healthy lifestyles choices should be made. Those at risk of getting Alzheimer's disease are recommended by doctors to concentrate on better cardiovascular health.
What are my loved one's options for Alzheimer's care?
Higher levels of care are necessary as Alzheimer's disease progresses. Professional care services that specialize in Alzheimer's disease are needed to ensure the well-being and safety of elderly clients. Often, friends and family members help take care of loved ones who have the condition in earlier to mid stages. But, as the disease progresses into advanced stages, care experts that specialize in Alzheimer's disease are usually required.
One option is a nursing care facility. Unfortunately, this is known to be a very stressful choice for those with Alzheimer's. As such, it's typically considered to be the last resort for families.
Another option is private care services that are provided in the comfort of your loved one's home. These programs are offered by care professionals that specialize in Alzheimer's disease, such as Visiting Angels.
What is Alzheimer's home care?
Alzheimer's home care is one of the many elderly home care services that Visiting Angels provides to our clients and their families. It is on-site, senior care geared towards helping seniors who live with early, mid, or later stages of the disease. We design a care plan that is personalized for your beloved senior. In the comfort of your loved one's home, professional, skilled, compassionate care is provided. Our caregivers are trained and certified, with ample experience to care for those who have Alzheimer's disease.
Call Visiting Angels of Douglasville to learn more about our elderly home care services, including how we can help your family member with Alzheimer's disease. Contact us today to request a free consultation.
Serving Douglasville, Lithia Springs, Smyrna, Mableton and Surrounding Areas
Visiting Angels
DOUGLASVILLE, GA
3400 Chapel Hill Rd #801
Douglasville, GA 30135
Phone: 678-383-1962
Fax: 678-324-7612