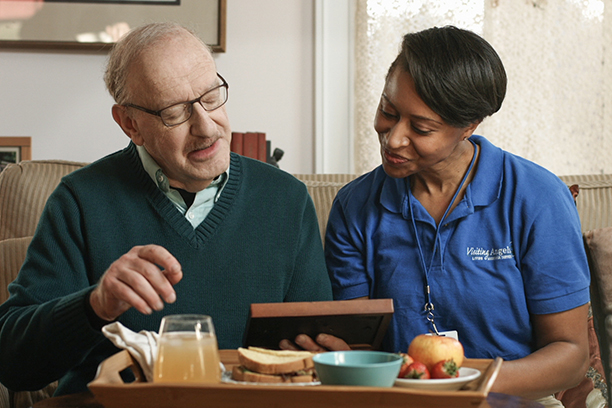 Respectful Incontinence Care for Seniors in East Bernard, TX and Surrounding Areas
With elder home care services from Visiting Angels, seniors in East Bernard, El Campo, Wharton, Fulshear, Katy, Columbus, La Grange, Rosenberg and surrounding Texas communities can age comfortably at home despite incontinence issues
A lot of seniors struggle with incontinence, which can be caused by health issues or turn up as a side effect of certain medications. On the other hand, this condition can lead to other various health problems or further complicate existing issues. Older adults who wish to age at home and remain healthy and comfortable throughout their golden years, need to find a way to manage incontinence issues.
Here at Visiting Angels East Bernard, we offer high-quality elder home care services that include dignified in-home incontinence care for elderly adults. Our trained and compassionate caregivers can help your parent get cleaned up after they have an accident, as well as monitor their well-being while treating them with respect.
What Does Incontinence Care at Home Include for Seniors in East Bernard and Surrounding Areas?
Our elder home care services are designed to increase the comfort of your loved one. By providing incontinence care, our caregivers can minimize embarrassing situations as much as possible. Apart from helping your loved one get cleaned up, they can keep an eye on them and remember when accidents occur so that health providers can find the cause of the problem more easily.
When the accident happens, our care professionals can wash your loved one's soiled sheets and clothes. As a part of our incontinence care services, they can also assist your parent with bathing, dressing and toileting if they struggle with mobility issues. If your senior has an accident, we will do our best to clean up as quickly as possible in order to reduce the likelihood of any health issues. You can rest assured that our services are completely discreet, so our clients don't feel embarrassed.
Our trained care professionals can also keep a log of your parent's daily bathroom habits and make a note any time an accident occurs. With this log your loved one's doctor can fully understand their situation and work toward finding what's causing the incontinence.
At Visiting Angels East Bernard, we offer personalized care plans and work around your loved one's schedule. Depending on your parent's care needs we can provide our elder home care services for as little as a couple of hours a day to 24 hours a day. With Visiting Angels East Bernard, your parent will receive the incontinence care every time they need it.
To learn more about our incontinence care services, contact our East Bernard, TX office today.
Serving East Bernard, Rosenberg, Wharton, Katy, Victoria, La Grange, Columbus, Fulshear, El Campo, and Surrounding Areas in Southeast Central Texas
Visiting Angels
EAST BERNARD, TX
704 Church St #A
East Bernard, TX 77435
Phone: 979-335-4025
Fax: 979-335-4121