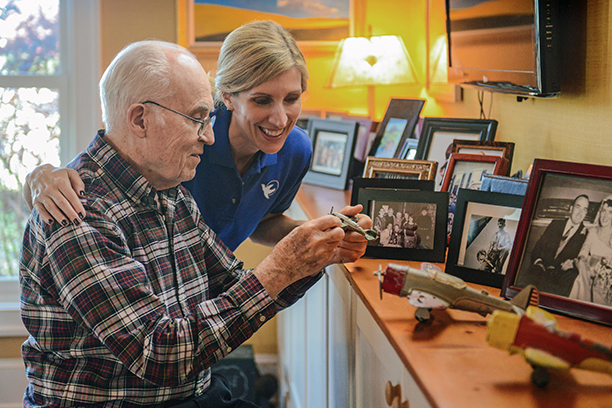 Reviews
Client Reviews
Gretchen was attentive to my mother in law. She helped with laundry and with dishes and went over and above helping out while we were on vacation last week.
– Meredith, Indiana
Beth has been a jewel; she has been a real angel to my mother, who is 96 years old. She comes and stays with her one day a week, all day long, and it really helps me out. She visits with her and cares for her. She also does odd jobs around the house, keeping the dishes done and the laundry done. She just goes overboard doing extra things for us and we appreciate her so much. I don't know what we'd do without her. Thank you so much for sending her to us.
– Lois, Indiana
The caregivers at Visiting Angels are so good. The client is the caregiver's main focus.
– Carolyn H., Indiana
I'm satisfied with the service we've gotten from Visiting Angels and the caregivers we've gotten have been very good! The caregivers act like they really care about what they're doing! With this kind of job, you really have to care about what you're doing.
– Eloise T., Indiana
My caregiver sees things that need to be done, and she does it. You don't have to ask her to do every little thing; she sees it and does it. She's always helpful when we go out in the car. She always takes my arm when we walk, and I enjoy having her.
– Maxine W., Indiana
---
Caregiver Reviews
I have referred people to Visiting Angels several times. I really do think that they are the top agency. I think that, because of their requirements, they are able to get top-of-the-line caregivers. They also get wonderful clients.
I have recommended working for Visiting Angels several times to different people. I speak highly of them. I know when I go to a client's house it will be clean and really nice. Most of the clients are really good people and really nice.
The office help is wonderful! Everyone is eager and willing to help one another!
Visiting Angels offers a lot to the clients and they help out a lot. We are always there for the client regardless of the situation.
I have recommended the services at Visiting Angels to many people in the past. They are a wonderful agency!
The training is always up to date and makes me aware. Visiting Angels constantly has training that I can take and test on the computer. I think their training is top-notch.
Serving Pendleton, Muncie, Anderson, Greenfield, McCordsville, Fortville, IN and Surrounding Communities
Visiting Angels in Anderson, IN
110 E Hartman Rd
Anderson, IN 46012
Phone: 765-703-4194