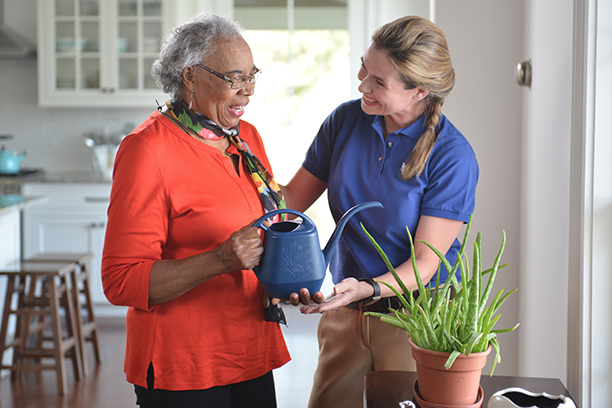 Home Care in Shoreline
When you are concerned about an elderly parent or relative in your life who needs help at home, where can you turn? Visiting Angels® Eastside is always here to help your family. We deliver comprehensive home care services across the Shoreline area, making it possible for older individuals to age in place in the environment of their choosing.
We work day in and day out to serve elderly adults and their families through our personalized services. If you've noticed that physical difficulties or cognitive challenges are preventing your loved one from living fully at home, one of our caregivers can make a difference in their life. Our aim is to offer support that enhances our clients' comfort and allows them to continue living independently.
We maintain an excellent reputation as a source of home care for families in:
Shoreline
And towns in the surrounding area
Your family can rest assured that we will accommodate the needs of your loved one while building a meaningful relationship with them that adds joy to the care process. Our locally based care team is composed of professionals who are compassionate, patient, and committed to making elderly adults' lives more enjoyable. As part of our rigorous hiring and screening process, each of these caregivers has gone through a background check and has proven themselves capable of meeting our high standards.
About Our Home Care Services in Shoreline
If you were to make a list of the things your loved one needs help with on a daily or weekly, basis, what would that list look like? Moreover, what kinds of challenges are you facing as their family caregiver? Because we offer so many different forms of home care, you can have faith that we will be able to accommodate the unique struggles of your family and provide a care solution that is individually tailored to your situation.
For examples of how our caregivers can help, take a look at this brief list:
Uplifting companionship and stimulating conversation
Help with grocery shopping and other errands
Reminders about medication, appointments, and schedules
Support with light household duties
Assistance with bathing and getting dressed
Planning, preparing and serving meals
Providing coverage to allow family caregivers a break
Arranging transportation and offering walking support
Our Personalized Approach to Home Care in Shoreline
By following a personalized approach to care, we will be able to offer individually tailored assistance that is just the right fit for your family's needs. Of course, to better understand how we can help your loved one, we'll first want to get to know them and explore their home care options together.
Our step-by-step process for setting up individualized care is as follows:
An introductory phone call with our office that will include a quick conversation about how our services may be the right fit for your loved one in Shoreline.
A more in-depth visit from one of our care coordinators for a free consultation that sets the stage for the development of a comprehensive care plan and schedule.
After we've gathered details about your loved one's daily life and needs, we will create their care plan and ensure we get your approval on every aspect of this customized program.
Finally, we'll choose the care provider from our talented team who is the most appropriate fit for your loved one's care requirements and disposition.
We'll maintain continuous communication with the members of your family who are involved in your loved one's care as we start delivering their services. Should their circumstances change with time, we can also make adjustments to their care plan.
Types of Home Care Available in Shoreline
You may be eager to learn more about the types of care our team delivers. You can find a quick overview of some of our most popular home care types and programs below.
Companion Care Services
Even if your loved one can manage their basic needs on their own, they may still feel isolated and alone. Companion care helps seniors with their daily tasks while offering the conversation, social interaction, and emotional support they often desire at this stage in their lives.
Personal Care Services
When everyday activities aren't as simple as they once were, your loved one may not feel like they can live freely, fully, or even safely. Through personal care services, they can have the benefit of physical support with their routines, including activities like taking a shower and grooming.
Respite Care Services
When caregiving feels more draining than rewarding, you may be on the road to burnout. We offer respite care that helps prevent family caregivers from having to deal with the effects of burnout. We will match your family with a care provider you can call on whenever you feel like you could benefit from a break.
Specialized Alzheimer's and Dementia Care Services
When someone you hold dear to your heart is diagnosed with a disease that affects their cognitive functioning, such as Alzheimer's disease or dementia, you may feel overwhelmed with worry about their safety at home. Because we offer specialized services that meet the different needs associated with various forms of dementia, your loved one can remain safe and comfortable while residing in familiar surroundings.
Our Fall Prevention Program
Just one fall can have a dramatic impact on your loved one's quality of life. Falls are one of the major causes of injury among elderly adults, and preventing them is absolutely crucial. Our Safe & Steady Fall Prevention program gives care recipients tailored guidance as they implement fall safety techniques into their lifestyle in order to maintain their independence and their safety.
Get Started with Home Care in Shoreline Today
Your family can gain a support system and a partner in caring for your loved one when you turn to Visiting Angels Eastside. Call (425) 828-4500 today to connect with the team at our home care agency and start scheduling your free consultation in Shoreline.
Serving Eastside, North Seattle and the Surrounding Areas
Visiting Angels
EASTSIDE
12020 113th Ave NE Bldg C #180
Kirkland, WA 98034
Phone: 425-828-4500
Fax: 425-828-4505