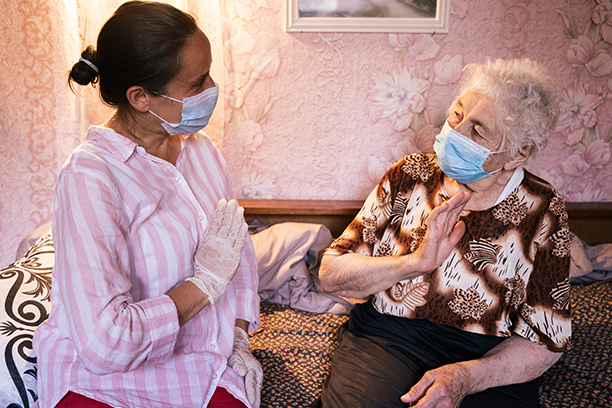 Meal Planning and Preparation for Seniors in Edgewater, MD and Surrounding Areas
Our home health care providers assist seniors in Edgewater, Crofton, Bowie and surrounding MD communities with planning and preparing meals
In order to live active, happy and fulfilled lives and stay healthy, seniors need to follow a well-balanced diet. However, some older adults do not have the strength needed to stand in the kitchen and prepare a nutritious meal. Others find that ordering in or skipping meals is far easier than cooking.
If you are worried that your loved one eats wrong types of food or doesn't eat enough, do not hesitate to contact Visiting Angels Edgewater. Our home health care providers will come to your parent's home and prepare nutritious and delicious home-cooked meals while following your orders or instructions given by your loved one's nutritionist.
At Visiting Angels Edgewater, we are dedicated to delivering high-quality care to seniors living in Edgewater, Crofton, Bowie and surrounding areas on Anne Arundel and Prince George's Counties. With our help, our clients are able to maintain their independence and age comfortably at home.
Why Healthy Eating Can Be Challenging for Seniors
Loss of mobility or strength
It is not uncommon for seniors to become weaker with age. Going grocery shopping, taking those groceries home and standing in the kitchen while cooking can be too much for your aging loved one.
The "convenience" of frozen meals and fast food
Why should they spend an hour preparing a meal when they can opt for frozen meals that can be done in five minutes? A lot of seniors think this way which is unfortunate because these meals are often full of salt and preservatives, and do not contain nutrients an older adult needs to remain strong and healthy. Our home health care providers can make sure that your parent eats nutritious home-cooked meals instead of frozen ones.
Lack of appetite due to medication or depression
Certain medications can cause a loss of appetite. In addition, mental health concerns such as depression can leave your loved one unwilling to make an effort and cook something for themselves.
What's Included in Meal Planning from Visiting Angels Edgewater
If your loved one is skipping meals or is not eating well, we can help. As a part of our meal planning and preparation services, our caregivers can accompany your loved one to the store or go there on their own with a shopping list provided by your parent, prepare snacks and meals, organize the kitchen, store leftovers, clean up the dishes and take out the trash.
If you want to learn more about how our home health care providers can help your loved one with meal planning, please contact our Edgewater, MD office today.
Serving Anne Arundel and Prince George's Counties, Including Edgewater, Crofton, Bowie, Gambrills and Surrounding Areas
Visiting Angels
EDGEWATER, MD
3168 Braverton St #400
Edgewater, MD 21037
Phone: 410-956-7771
Fax: 410-956-7757