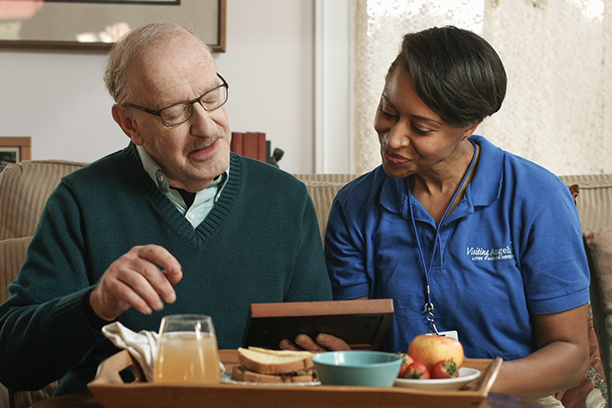 Post-Surgery Recovery Care from Qualified Caregivers in Edgewater, MD and Surrounding Areas
With living assistance provided by Visiting Angels, seniors in Edgewater, Crofton, Bowie and surrounding areas in Maryland can recover safely at home after having a surgery
As we grow older, a lot of things about our bodies began to change. In senior years, recovery takes much longer than it did before, and older adults have a hard time even fighting off a simple cold. Even bruises and cuts take longer to heal. That is why it is no wonder that recovering from surgery often takes weeks.
If your parent has been discharged from a hospital after having surgery, they might need extra help with everyday tasks. With post-surgery recovery care at home delivered by Visiting Angels Edgewater, your parent will receive all the assistance they need until they get back on their feet.
How Our Home Care Services Help Seniors in Edgewater and Surrounding Communities Recover
A lot of simple tasks become too difficult for seniors who are recovering after surgery. Whether your loved one needs living assistance with meal preparation or light housekeeping, we are here to help. We will build a care plan that meets their specific care needs. Before we start delivering care, we will get to know your loved one and learn about their limitations, abilities, and preferences, and create a plan tailored to their unique situation.
At Visiting Angels Edgewater, our caregivers are trained to provide living assistance with various daily tasks:
Meal Preparation: We will ensure that your parent receives nutritious meals during their recovery. Our caregivers can do all the shopping, prepare meals and make sure that your parent is sticking to their prescribed diet.
Mobility Assistance: We will help your loved one move safely around their home and make sure they don't put their health and recovery at risk.
Bathing and Grooming Assistance: Our caregivers can assist your parent with bathing, grooming, toileting, and other personal needs, therefore ensuring they maintain their personal hygiene.
Housekeeping: We can assist your loved one with light housekeeping tasks such as vacuuming, dusting and laundry.
Medication Reminders: During their recovery your parent will probably need to take several medications throughout the day. Our caregivers can make sure they take them as prescribed.
Long-Term Care for On-Going Support
Some surgeries are more complicated than others and can leave older adults with long-term needs. If your parent had orthopedic surgery, it is quite possible that they will find it difficult to drive, move around their home or stay active. Some seniors experience memory loss and confusion as a result of surgery.
If your parent needs long-term care, you can count on us. Our caregivers can be there for your loved one in the time of need to provide overnight monitoring, companionship and living assistance.
If you wish to learn more about the in-home care we provide in Edgewater and surrounding areas in Maryland, contact our office today.
Serving Anne Arundel and Prince George's Counties, Including Edgewater, Crofton, Bowie, Gambrills and Surrounding Areas
Visiting Angels
EDGEWATER, MD
3168 Braverton St #400
Edgewater, MD 21037
Phone: 410-956-7771
Fax: 410-956-7757