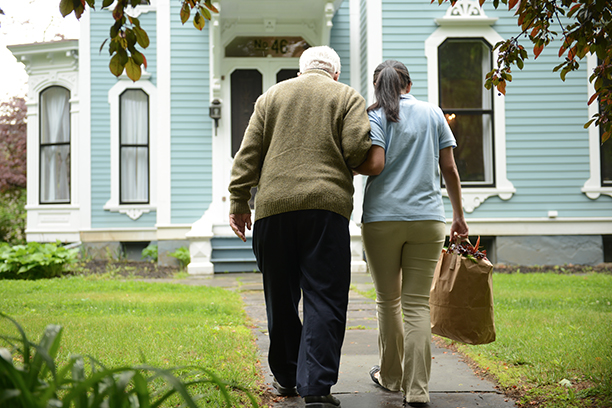 Residential Senior Care for Elderly Adults in Edgewater, MD and Surrounding Areas
Visiting Angels provides quality senior care in homes as well as assisted living facilities in Edgewater, Crofton, Bowie and surrounding areas in Maryland
At Visiting Angels Edgewater, all of our elderly care services are designed to ensure the happiness, comfort and safety of our clients. With our help, older adults in Edgewater, Crofton, Bowie and surrounding communities are able to live out their golden years on their own terms and maintain their independence as much as possible.
Aside from providing care at home, we also deliver our care services in assisted living facilities and senior living communities. Whether your loved one has decided to age at home or they need extra care in an assisted living facility, you can count on us.
Some communities where we current serve clients include:
Pin Oak Village Apartments | (814) 676-0193
Churchill Senior Living | (301) 528-4400
Covenant Village Apartments | (301) 540-1162
The Benefits Our Experts Provide to Seniors in Assisted Living Facilities in Edgewater and Surrounding Communities
If your loved one is no longer capable of taking care of themselves, you may have decided that moving them to a senior living community is the best solution for everyone. Many assisted living facilities in Edgewater provide seniors will excellent care while allowing them to maintain their independence.
However, even though many families believe that the senior care delivered in these communities is enough for their loved ones, sometimes that is not the case. When seniors have specialized needs, they often require a level of care professionals in these facilities are just not equipped to provide. If this is the care, don't hesitate to contact us.
Rest assured that our caregivers will work around your parent's schedule, not vice versa. While at assisted living facilities older adults receive the care they need from whoever is on call, with Visiting Angels Edgewater your parent will only receive care and support from a caregiver they have personally chosen.
Filling in the Gaps of Senior Care
At Visiting Angels Edgewater, it is our main priority to provide compassionate and comprehensive care to older adults living in Edgewater and surrounding areas. Whether your loved one requires companionship, overnight monitoring or help during their recovery after having surgery, feel free to contact us. Regardless of what type of care your loved one needs, you can rest assured that with Visiting Angels they will have everything they need.
Are you looking for professional senior care services? If so, don't wait to contact our office in Edgewater, MD! Our friendly staff members will answer all of your questions and let you know how we can help your loved one who lives in an assisted living facility.
Serving Anne Arundel and Prince George's Counties, Including Edgewater, Crofton, Bowie, Gambrills and Surrounding Areas
Visiting Angels
EDGEWATER, MD
3168 Braverton St #400
Edgewater, MD 21037
Phone: 410-956-7771
Fax: 410-956-7757