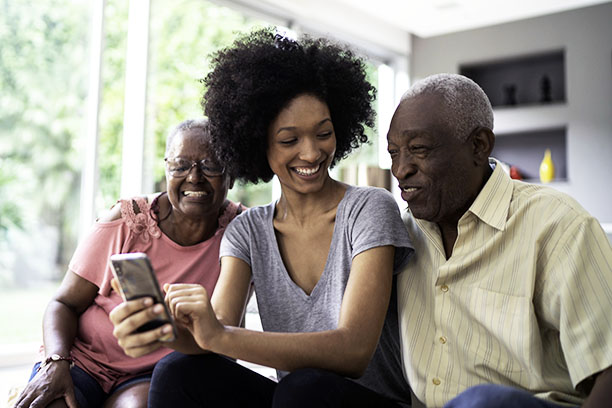 Learn About the Social Care Program from Visiting Angels Edgewater
Visiting Angels helps seniors in Edgewater, Crofton and Bowie, MD stay connected with loved ones through home care solutions like our Social Care program
The need for socialization becomes greater once we reach our senior years. This is the reason why it is so crucial not only to provide for their physical needs but also their social needs. This is the reason why here at Visiting Angels, we understand that the best way to treat our elderly clients is to do it in a holistic approach. A holistic approach to home care solutions means caring for the individual by providing their external and internal needs.
That's why we've created the Social Care program to help seniors fulfill their need for social interaction and companionship by teaching them how to use digital platforms to stay connected with loved ones throughout the country.
The Benefits of Social Media for Seniors
To fulfill the social care needs of elderly clients, using technology can be advantageous. Studies show that browsing the internet can reduce symptoms of depression by as much as 20 percent.* Another study conducted by researchers from the University of Arizona noted that those who use Facebook have better working memory. They also have better emotional experiences as measured by breathing rates, pupil dilation and brain stimulation.** While using technology in fulfilling the social needs of the elderly beneficial, technology does not pair well with old age.
Helping Seniors Stay Connected with Personalized Home Care Solutions
There are many older people who are adamant about learning technology but if you seek help from caregivers, they might just be able to help teach your loved ones to be tech-savvy. Here at Visiting Angels, our caregivers are trained to implement our Social Care program and they will teach your loved one how to use different gadgets such as cell phones, tablet computers and personal computers.
Our caregivers can also help create accounts on Facebook, Skype, Twitter or FaceTime so that they can start interacting with their friends and family. But more than setting up your loved one's account, our caregivers can also help your loved ones do online shopping and research information online.
Our Social Care program is designed to provide your loved ones with the help that they need so that they can become independent users of technology. That way, they can communicate with their loved ones at any time of the day. For the social care needs of your loved ones, make sure that you ask for one of our caregivers at Visiting Angels. Our caregivers are not only trained to teach how to take advantage of technology but to also enrich their lives.
Contact our Edgewater, MD office to learn more about our Social Care program and other home care solutions.
* Washington, D.C. based Phoenix Center
** Journal Cyberpsychology, Behavior, and Social Networking
Serving Anne Arundel and Prince George's Counties, Including Edgewater, Crofton, Bowie, Gambrills and Surrounding Areas
Visiting Angels
EDGEWATER, MD
3168 Braverton St #400
Edgewater, MD 21037
Phone: 410-956-7771
Fax: 410-956-7757