Dementia Care in Evanston: Tips For When They Say They Want To Go Home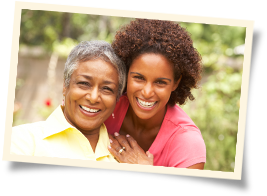 "Can I go home now?" If you're providing dementia care for a loved one, it's not uncommon to hear this question. It's an understandably distressing question for a lot of family caregivers—especially if your loved one is already at home. At Visiting Angels® Evanston, we assist family caregivers as well as individuals dealing with dementia. We know it can be tricky for family to deal with this scenario.
Let's review a few recommendations for what to do next.
How To Help When Your Loved One Says They Want To Go Home
For those with dementia, confusion or cognitive deterioration is incredibly common. Even if your loved one is already home, they may ask to go home if they're feeling confused, bored, or distressed. From our dementia care team in Evanston, here are a few ways to support your loved one in the moment:
Exhibit calm and reassurance. It's easy to feel frustrated or upset when your loved one asks to go home. But it's important to remember that signs of anger or annoyance can make things worse. Try to be as calm and reassuring as possible. If your loved one is comfortable with touch, try to give them a hug or simply put a hand on their shoulder. The last thing you want is for them to feel like they're a burden.
Agree to go in a little while. Often, those with dementia are looking for reassurance when they express a wish to go home. Telling them that you'll take them home in a little while can help them feel like you're listening and that you care. That's true even if they're already at home. The request to go home is usually a short-term suggestion, and offering a short-term agreement can make an immediate difference.
Find a helpful diversion. Finding another outlet for a family member's attention can be very helpful when dealing with this situation. Think about keeping favorite music, a photo album, or a cherished book on-hand. Alternatively, asking them for help with a small task, such as folding laundry, can make them feel needed. You know what will effectively divert your loved one best: practice a few options to see what works.
Compassionate and Thoughtful Dementia Care in Evanston
With our agency, you can access dementia care and support from compassionate caregivers in:
Evanston
Highland Park
Skokie
Northbrook
And throughout the surrounding area
Get help with dementia care from Visiting Angels Evanston. We're here to support you—just contact our agency today for more information.