Alzheimer's Care in Evansville: When is it Time?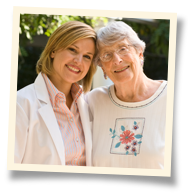 If you have a parent or loved one in your life who has been diagnosed with Alzheimer's, it can be difficult to know when to rely on the Alzheimer's care services available in the Evansville, IN area. Your loved one might have very few symptoms when they are first diagnosed, with these symptoms increasing over time. The progressive nature of the disease can make it difficult to draw the line between your loved one being all right on their own, and your loved one needing support.
While different seniors have different needs, there are some clear signs that may indicate your loved one could benefit from Alzheimer's care from a professional home care agency like Visiting Angels® Evansville. To help you decide if care is right for your loved one, we've listed some of the most common signs below.
When Seniors in Evansville Need Alzheimer's Care
If you think your loved one in Evansville, Mount Vernon, Princeton, Boonville, Henderson KY, or the surrounding areas may need Alzheimer's care, some signs to look out for include:
Difficulties with Medications. Keeping track of what medications to take when can be challenging for those suffering from memory disorders. An Alzheimer's care provider from Visiting Angels Evansville can help your loved one by offering medication reminders, as well as reminders to run errands, attend events, and eat and bathe.
Wandering. Even familiar surroundings can become confusing and disorienting to a person with Alzheimer's. A caregiver can offer wandering prevention to help make sure your loved one doesn't get lost. They can also offer gentle reassurances to help your loved one cope with the anxiety and agitation associated with the disease.
Changes in Health and Well-being. If you've noticed your loved one losing weight, wearing the same clothes for several days, or living in an unkept house, they may be having a hard time living alone. With memory care, your loved one can get help with meal preparation, light housekeeping, personal needs, and more.
Caregiver Burnout. Caring for a loved one with Alzheimer's can be overwhelming and exhausting. With Alzheimer's care, your loved one in the Evansville, IN area can get the support they need while you get the respite you deserve.
When loved ones need compassionate and personalized support, families know they can rely on the Alzheimer's care services we offer at Visiting Angels Evansville. Call us today to find out more about our services.