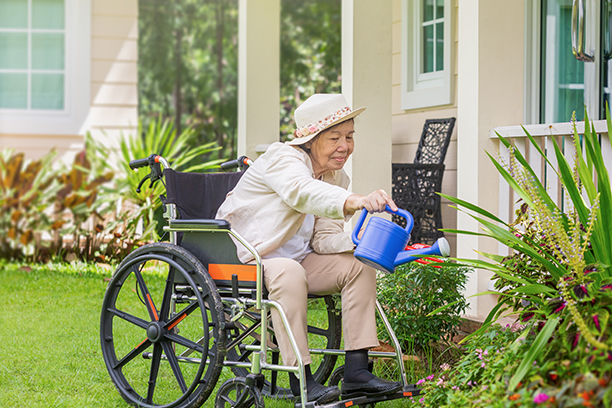 Visiting Angels Is a Leading Senior Care Provider in the Greater Fairfield and Brookfield, CT
At Visiting Angels of Fairfield and Brookfield, we understand that you want only the best senior care for your senior. As such, you're trying to find a professional, qualified elder care provider with excellent credentials and skilled support staff. Treating your loved one with dignity, respect, and compassion, our home care providers assure quality care for them. If you've been looking for caregivers in Fairfield, Trumbull, Westport, Shelton, or the surrounding area that are fully trained and certified to address your loved one's health and well-being, there's no need to look any further.
Visiting Angels Offers Exceptional Senior Care to Families in Fairfield, Brookfield, Trumbull, Greater Danbury, and Surrounding Areas
Whether it is short-term or long-term, we can assist your family with various senior care services, including 24-hour care, overnight, or hourly care. We work according to your loved one's schedule. Whether it's a weekly visit, daily care, or weekend respite program. Incorporating daily living activities into every visit, our aides create a personalized care plan for your loved one. Meal planning, food preparation, laundry assistance, light housekeeping, assistance running errands, medication reminders, personal care, and hygiene assistance are just a few of the things our helpers provide. No matter what specific needs your loved one may have, rest assured that our personalized senior care plans and caring staff guarantee exceptional living assistance services.

Visiting Angels of Fairfield and Brookfield owner and operator Tom Dolan is passionate about delivering the highest level of home care to each one of our senior clients. A Fairfield, Connecticut native, Tom knows the deep personal importance of knowing that your loved one is safe and comfortable in the security of their own home. He understands that most beloved family members desire to age in place and the challenges families face in providing this service for loved ones.
Locally owned and operated, we are very proud to be part of the nationwide Visiting Angels network of 500+ local franchise locations throughout the USA and internationally. Our offices are centrally located in Fairfield and Brookfield, CT, with a new office coming soon to central Litchfield County.
Visiting Angels of Fairfield and Brookfield Provides Reliable, Friendly Care
Nursing homes, long-term care residences, and assisted living facilities are not the only option available when you need senior care services. Now, your loved one can continue to live in the comfort of their home and familiar surroundings with Visiting Angels of Fairfield and Brookfield, enjoying the lifestyle that genuinely makes them happy. Quality senior care is a gift you can give your elder loved one, allowing them to maintain their dignity and independence.
Our Mission and Vision
"Our agency Mission and Vision is that every member of our team is focused on delivering an extremely high level of compassionate home care to those we care for that results in setting the standard and bar in the marketplace that other agencies are continuously chasing to achieve."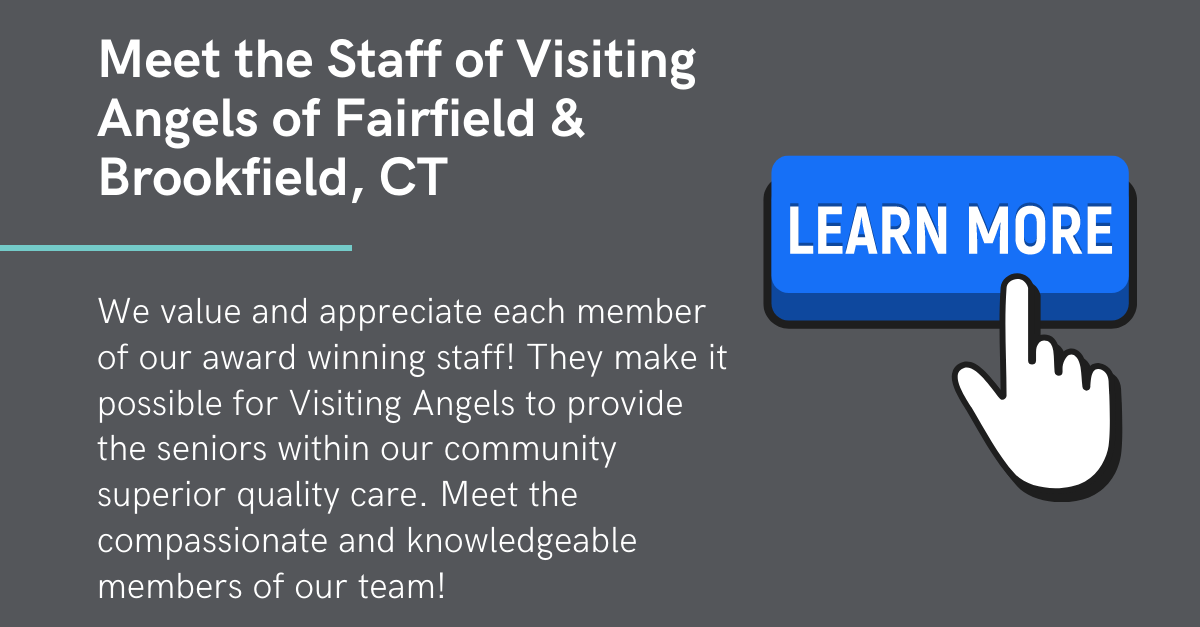 Our growing team of 375+ Trained and Compassionate Caregivers have served more than 3,100 families as senior care aides in Fairfield, Trumbull, Westport, Shelton, and the surrounding area since 2002. Through the skilled and dedicated work of our compassionate home caregivers, we provide the highest quality home care available in the area. This enables our clients to remain safely and comfortably at home. We are an approved provider with most long-term care insurance companies and help manage the weekly paperwork. We can also assist prospective clients in applying for home care benefits from the Veterans Administration for those that qualify.
We invite you to call us at 203-349-9567 or email Tom at tdolan@visitingangels.com. One of our experienced home care coordinators will speak with you over the phone. At this time, you can also schedule a free in-home consultation at your convenience, available on evenings and weekends. We welcome you to stop by the office and see our warm and friendly operation firsthand. We'll give you a tour, answer any questions that may arise, and work diligently to get you the senior care that you need. Get Directions.
Serving Fairfield, Trumbull, Westport, Shelton, Brookfield, Greater Danbury, Southbury, Greater Waterbury, CT, and More
Visiting Angels
FAIRFIELD & BROOKFIELD, CT
2452 Black Rock Turnpike Suite 6
Fairfield, CT 06825
Phone: 203-254-0402
Fax: 203-254-0445
499 Federal Rd #9
Brookfield CT 06804
Phone: 203 740-0230
toll free 1-877-222-6435