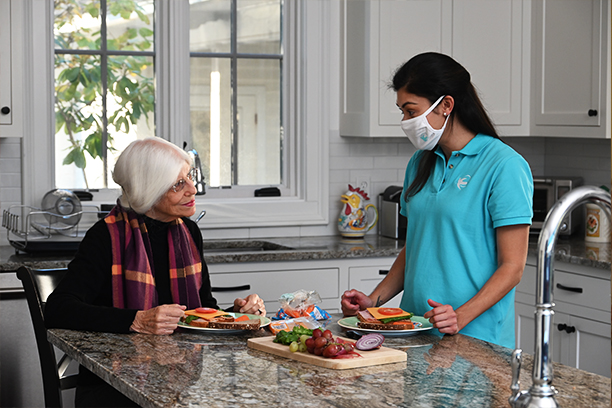 Visiting Angels Offers Supportive End of Life Care to Families in Greater Fairfield and Brookfield, CT
Receive the Essential One-on-One Care Your Family Needs with End of Life Care in Fairfield, Brookfield, Trumbull, Greater Danbury, and Surrounding Areas
Visiting Angels of Fairfield and Brookfield offers loved ones and families essential support during the end of life process – a natural transition in the life cycle that can be, nonetheless overwhelming for everyone.
We at Visiting Angels of Fairfield and Brookfield believe that every family should have support services that address both the elderly client's and their families' needs during the end of life transition. Thus, we created our unique end of life care services with skilled, experienced caregivers who will do all they can to keep your loved one as comfortable as possible as they make this transition. Although our in-home care services do not include hospice care, our aides can work alongside hospice care providers, offering support when needed. Should family members need home care during this time, our compassionate companions can certainly provide it as well.
How One-on-One Care Can Help
Our end of life care program can be found online via our Life Care Navigation – a detailed collection of the many senior in-home care services offered at Visiting Angels of Fairfield and Brookfield. Through our reference guide, Practical Care Tips for End of Life, you can also find out more about our in-home care approach.
Our approach to end of life care is primarily client-centered, focusing on your loved one's comfort and well-being with support. Specialized assistance includes:
Minimizing discomfort
Certified Palliative Care to help comfort senior's mind, body, and soul
Support with personal tasks like bathing, grooming, and dressing
Easing feelings of anxiety, stress, and loneliness
Respite for family members
Companionship for the entire family
Compassionate Care and Support
Visiting Angels of Fairfield and Brookfield is there for family members who need a well-deserved break from being primary caregivers. As such, we offer respite care so that family caregivers can rest and recharge. Additionally, our in-home care providers perform tasks such as meal preparation, light housekeeping, laundry, shopping, and running errands. When families feel overwhelmed or stressed, our compassionate companions also provide an anchor that people can turn to when they need a helping hand or emotional support.
Contact Us Today for Essential Support
Call us today to schedule a no-cost meeting for more information on our essential senior care services in Fairfield, Brookfield, Westport, Shelton, and the surrounding area. Our staff can answer any of your questions about our end of life care program and schedule a free, in-home assessment with our care coordinator. During this assessment, we will go over your family's needs, logistics and figure out the best care plan that will keep your loved one as comfortable as possible in their final days. Once a care plan is created, we can begin services typically within 24-48 hours - sometimes sooner.
Serving Fairfield, Trumbull, Westport, Shelton, Brookfield, Greater Danbury, Southbury, Greater Waterbury, CT, and More
Visiting Angels FAIRFIELD & BROOKFIELD
2452 Black Rock Turnpike Suite 6
Fairfield, CT 06825
Phone: 203-349-9567
203.254.0402
499 Federal Rd #9
Brookfield CT 06804
Phone: 203 740-0230
toll free 1-877-222-6435