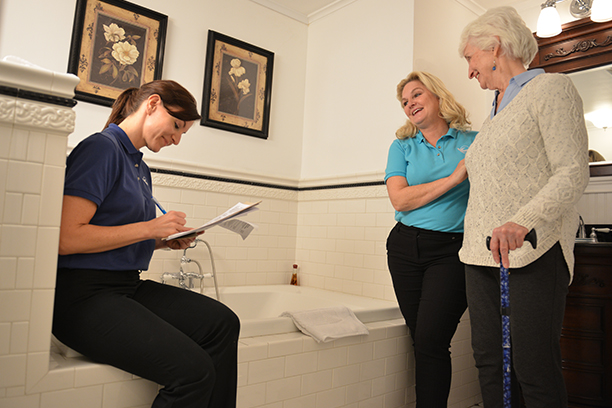 Visiting Angels of Fairfield, CT's Nurse Oversight Program
Visiting Angels of Fairfield and Brookfield, CT Proudly Offers Nurse Oversight in Fairfield, Brookfield, Trumbull, Greater Danbury, and Surrounding Areas
Visiting Angels of Fairfield and Brookfield, CT's Nurse Oversight Program provides in home care to seniors. We can help clients remain in their home while monitoring for changes in their condition. Our individualized approach allows us to deliver a care plan that best meets the needs of you and your loved one, up to and including assistance with palliative care and hospice.
Our One-on-One Care Plans
After the in home evaluation, our nurse will communicate with our care coordinators to develop a customized care plan and provide the information needed to help manage the client's condition. With our essential in home supportive services, our clients remain healthier longer and avoid hospital admissions or entry into institution style care settings.
Throughout the case, our nurse will oversee the caregiver and perform reevaluations as needed. The nurse provides guidance about how to best manage your loved one's condition making recommendations about diet, exercise, social engagement, and any other relevant daily needs.
Our Experience
With over thirty-five years of nursing and teaching experience, Carole Anne Del Vecchio offers nurse oversight to ensure caregivers are providing the level of care appropriate for each client, based on their current circumstances. Her passion and commitment to care is what sets Visiting Angels of Fairfield and Brookfield, CT apart from other in home supportive services and home care services.
Visiting Angels of Fairfield and Brookfield 's Essential Care Services
Visiting Angels of Fairfield and Brookfield, CT is an in home supportive services agency that focuses on our clients' needs. We are happy to take care of a wide range of needs, so we have developed a holistic approach, where we try to care for all types of care:
Physical care:

We by identify the common signs among older adults, providing care to support our seniors.

Emotional care:

We utilize a compassionate approach, assisting clients who may be experiencing

loneliness, stress,

anxiety, or depression.

Social care:

We form relationships with our elderly clients, providing companionship to those in our care.

Spiritual care:

We help our clients find relief and comfort from age-related problems as we treat our senior clients with respect and dignity.
We understand that seniors want to live out their remaining years at home, which is why we provide our care services in the comfort of their own home. To learn more about our home care programs in Fairfield, Trumbull, Westport, Shelton, and the surrounding area, contact our office today.
Serving Fairfield, Trumbull, Westport, Shelton, Brookfield, Greater Danbury, Southbury, Greater Waterbury, CT, and More
Visiting Angels FAIRFIELD & BROOKFIELD
2452 Black Rock Turnpike Suite 6
Fairfield, CT 06825
Phone: 203-349-9567
203.254.0402
499 Federal Rd #9
Brookfield CT 06804
Phone: 203 740-0230
toll free 1-877-222-6435