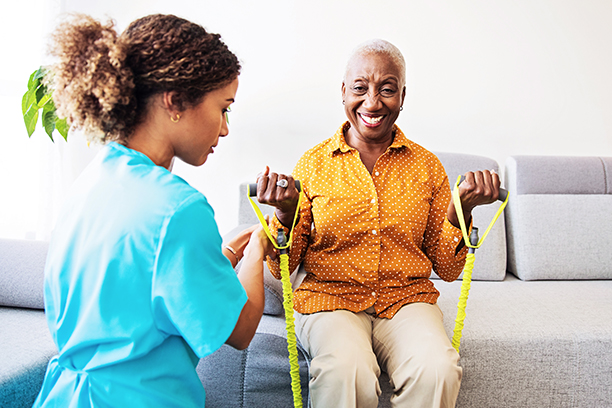 How In-Home Care Helps Seniors in Greater Fairfield & Brookfield, CT
When researching care for your elderly family member, you may have many questions about the specifics of in-home care. At that point, we invite you to contact Visiting Angels of Fairfield and Brookfield with any concerns you may have. We would gladly provide you with answers as well as guide you through the oftentimes confusing decision-making process. With years of industry knowledge and experience in the field, we're here to help you figure out exactly what senior care services your loved one may need from Visiting Angels of Fairfield and Brookfield.
Essential In-Home Care for Seniors Struggling to Maintain Their Independence at Home in Fairfield, Brookfield, Trumbull, Greater Danbury, and Surrounding Areas
Without a doubt, it's never easy to allow someone new into your home. But with our in-depth interview process, you can rest easy knowing that we only hire exceptional, experienced caregivers. With caring, skilled assistance, your loved one can maintain their independence in a safe home environment. Whether it is a few hours a day or week, overnight or weekends, your family member will have a respectful, friendly aide. Visiting Angels of Fairfield and Brookfield is well-known for supporting hundreds of families in the area, each with different needs, personalities, schedules, and physical situations. No matter what concerns you may have, we'll always take the time to guide you through the steps to creating your loved one's personal care program.
How to Know When Seniors Need Professional In-Home Care
There are various warning signs that occur when professional senior care is required.
One-on-one care may be the right solution if your loved one is experiencing one or more of the following:
Are a threat to their own well-being
Mobility is limited due to physical ailments
Is in rehabilitation
Experiencing lapses in judgment or memory
Unable to prepare meals on their own
Unable to maintain independence
Needs assistance throughout the night
Is alienating themselves from friends and family
They are no longer content with their current caregiving efforts
If your loved one is experiencing any of the above points, it may be a good idea to contact Visiting Angels of Fairfield and Brookfield to discuss possible in-home care options.
Personalized One-on-One Care Services
Visiting Angels of Fairfield and Brookfield offers essential senior care services that include:
Social Care - we help seniors stay connected to friends and family through texting, emailing, video chatting, and more
Personal Care - dignified assistance with bathing, dressing, grooming, and more
Elderly Companion Care - assistance with daily tasks and activities
Respite Care - we offer respite to family caregivers so they can focus on their own needs and well-being
Contact Us Today to Learn More
Interested in learning more about our care options in Fairfield, Trumbull, Westport, Shelton, and the surrounding area? Contact Visiting Angels of Fairfield and Brookfield today to speak with one of our staff members. They will be happy to review any questions you may have about our in-home care and schedule a free, in-home assessment with one of our experienced care coordinators.
Contact Visiting Angels of Fairfield today to learn more about our senior care services!


Serving Fairfield, Trumbull, Westport, Shelton, Brookfield, Greater Danbury, Southbury, Greater Waterbury, CT, and More
Visiting Angels
FAIRFIELD & BROOKFIELD, CT
2452 Black Rock Turnpike Suite 6
Fairfield, CT 06825
Phone: 203-254-0402
Fax: 203-254-0445
499 Federal Rd #9
Brookfield CT 06804
Phone: 203 740-0230
toll free 1-877-222-6435