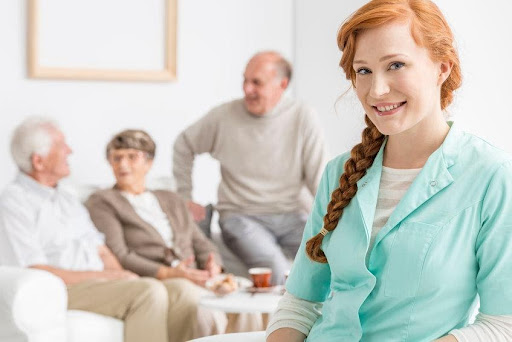 4 Myths About Becoming an In-Home Caregiver
If you're in the market for a new career, senior caregiving may be the perfect opportunity for you. People have assumed that it's either challenging or not fulfilling enough, but that's not true. Too many people avoid senior caregiving opportunities because they don't think they're qualified, but they miss a precious opportunity to spend time with outstanding seniors and help families. The Visiting Angels Farmington, New Mexico, team is ready to bust senior caregiving myths and help inspire you for your next career opportunity.
"Senior Care Isn't Rewarding."
The misconception that senior care isn't rewarding is not true in the least! We are proud of our history for exceptional caregiving and solid caregiver/client relationships. It's essential to remember that caregiving can help seniors have a life of comfort in their own homes, rather than moving with a relative or into an assisted living facility. In many cases, seniors can stay independent and dignified even if they live alone, which is a gratifying experience for caregivers, who can spend time with these clients where they're most comfortable.
As a senior caregiver, you'll enjoy getting to know your clients on a more personal level. It's not unusual to develop relationships with each client's family and make friends in the process.
"It's Not A Real Career"
Senior caregiving is as real of a career as an educator or care provider. Although senior caregiving jobs at Visiting Angels Farmington aren't focused on clinical care, we provide emotional and social support and tasks to help seniors live independently and safely. A career in senior caregiving means the opportunity to pour into families and build relationships based on trust and care. Even with no experience, our team will guide you from day one!
Many of our caregivers come to Visiting Angels Farmington because they're looking for a new career, not just something to do part-time or as a side job. Our employees take their jobs seriously and care deeply about the clients they serve. Our caregivers play a significant role in the lives of their senior clients and their families.
"I Don't Have Qualifications"
Do you have minimal experience in healthcare or with senior citizens? That's ok! At Visiting Angels Farmington, you don't have to be experienced with health issues or assisting the elderly before becoming a caregiver. Caregivers are often drawn to their profession when they realize the joys of caring for seniors. Our Visiting Angels Farmington team offers exceptional training that can prepare you for success in this field.
"The Job is Too Hard"
Senior care can have ups and downs, but our Visiting Angels Farmington team provides top-notch training to make every visit a breeze. We will help prepare you for difficult situations and offer tips to make your time with your senior clients easier. The most important part is providing our clients with good services and making sure we're learning from them - it's all about having an excellent client-care process!
Become A Caregiver With Visiting Angels Farmington
Seniors and their families need the caring in-home help our team provides, and we need caregivers who can be part of the team. We're seeking caring, empathetic, dependable individuals to help care for our area's seniors. If you're ready to join our team, we want to hear from you! Visit us online to find your perfect job with our team!