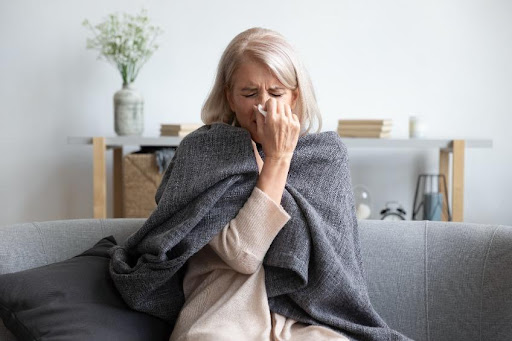 How to Prepare for Flu Season
During flu season, seniors and their loved ones must take extra precautions to protect their health. Older adults are more likely to have severe complications from the flu, so prevention is key. Plus, proper preparation can make a big difference in helping to reduce the spread of the virus.
Let's look at how families can prepare their senior loved ones for flu season.
Vaccination is Key
The most effective way to avoid the flu is by getting a flu shot yearly. However, it can take two weeks for your body to build up immunity after receiving the vaccine, so it's best to get vaccinated as soon as possible.
Vaccines are essential for seniors since they're more likely to develop serious complications like pneumonia and bronchitis if they contract the virus. These health issues can be especially dangerous for seniors with underlying health conditions.
Talk with your healthcare provider about what's best for you or your senior family member.
Practice Good Hygiene Habits
Flu germs can spread quickly when individuals don't practice good hygiene habits. This includes washing hands frequently, covering coughs and sneezes, and avoiding close contact with those who are sick. Additionally, sharing items like utensils, cups, or other items can spread germs, so it's best to avoid this if you can.
If you're caring for a senior loved one, help them wash their hands or use an alcohol-based hand sanitizer. Encourage them not to touch their face and to cover sneezes and coughs. If they're feeling ill or have a serious health condition, suggest that they stay home and away from public places.
Stay Active and Eat Well
It's also important that seniors stay active and eat well during influenza season. Exercise increases immunity against illness, while eating nutritious meals helps provide essential vitamins and minerals for a resilient immune system. Seniors can become more vulnerable to contracting the virus without proper nutrients and exercise.
Thankfully, there are many ways for seniors to stay active. Some of the most popular include walking and low-impact exercises like yoga or tai chi. Additionally, there are plenty of healthy meals that seniors can make for themselves or have prepared with the help of family members or a home care provider.
Get Adequate Rest
Although many older adults struggle with maintaining a balanced sleep schedule, getting at least 7-8 hours of sleep each night is essential. A lack of rest may weaken your immune system, making it more challenging for your body to fight off the virus.
Encourage your senior family member to go to bed at a reasonable time and encourage them to take naps during the day if needed. If they have trouble sleeping, suggest trying certain relaxation practices, such as deep breathing and meditation.
Calming scents like lavender or chamomile can also bring a sense of relaxation and better sleep.
Maintain a Clean Home
Having a clean house offers more than just convenience - it can also help protect health. For example, during flu season, it's important to regularly disinfect and sanitize surfaces in the home that may harbor germs. This includes doorknobs, faucets, tables, and other high-touch surfaces.
Additionally, you should dust and vacuum regularly to keep airways clear and minimize the spread of germs. If you're unable to carry out these activities, a home care provider can help.
An unkempt or dirty home is more than just an eyesore - it can be a hazard to your senior's health. So, make sure their home is clean and healthy by regularly disinfecting and sanitizing surfaces. This can help keep them safe from the flu as well as other viruses and illnesses.
Visit a Doctor Regularly
As mentioned before, influenza can worsen existing health conditions in seniors, so visit a doctor regularly. They will be able to keep track of any health changes and advise on how to reduce the risk of catching the flu. If you notice any new symptoms, it's best to contact a doctor immediately.
Regular doctor visits can also provide seniors with the opportunity to get a flu shot. Vaccinations are one of the most successful methods to protect against the virus and reduce its spread, so get vaccinated each year.
Conclusion
By taking these preventive measures, your senior loved ones can stay healthy and safe during flu season. Remember, the best way to prevent getting sick is to get vaccinated, practice good hygiene habits, stay active and eat well, and aim for adequate rest. With a few simple steps, your family can stay safe and healthy all season long.
At Visiting Angels Farmington, MO, we're here to help families look after their senior loved ones this flu season. Our compassionate caregivers are trained to provide exceptional in-home care and can help with meal preparation, medication reminders, and other daily tasks. Contact us online or call 573-664-1722 to learn more about our services.