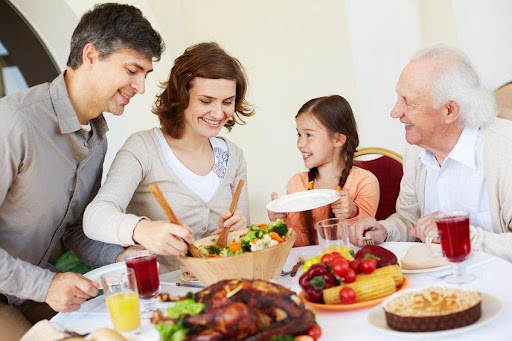 Prepping for the Upcoming Holidays with your Senior Loved Ones
The holidays are a time to celebrate our family and the loved ones we hold dear, and you may have traditions that have been passed down for generations from your parents, their parents, and so on. These shared memories are the ones we'll cherish for years to come, and they can be especially helpful in keeping senior loved ones active and involved.
Spending time with children and younger family members this holiday season can have several positive impacts as well. Studies show that spending time with children helps seniors feel less isolated or alone and can improve their cognitive health while helping them stay active.
However, some senior loved ones may be experiencing physical or mental difficulty, so the holidays can be a time of mixed emotions. Preparing yourself for these events can be helpful to ease worry or stress and ensure you make the most of your time together.
Ask them to contribute
Finding small activities for senior loved ones is a great way to help them feel involved in the festivities. Some of our loved ones have family recipes that make the holidays special. Even if they're not able to complete it on their own, asking for their guidance or assistance with a family favorite is a great way to remind them of their role as a leading member of the family. Setting the table, arranging flowers, and decorating for the holiday are low-impact activities that create a happy environment for all to share.
Live in the moment
Our senior loved ones have likely experienced loss several times in their lives. It's natural to miss those who are no longer with us around the holidays, but it's more important to remind senior loved ones of those who are still a part of their life. Small dedications and memorials practiced together can help keep the memory of lost loved ones alive during the holidays. Baking a special cookie recipe in honor of a relative or keeping other small traditions will help your seniors to feel supported and keep a positive outlook.
Offer to help with gifts
Our loved ones often grow in generosity as they do in age, and they are more excited than ever to shower their family in tokens of appreciation. If your senior loved one has difficulty moving around or being out and about, helping them with their holiday shopping list can be a very appreciated act of kindness and stress reliever. Volunteer to take them on an outing for gifts together or to handle the shopping for them.
Keep a healthy diet in mind
The holidays are a time for indulgence, but our favorite dishes can be packed with sugar, salt, and foods that are difficult for seniors to process. Be mindful of your loved one's dietary needs when preparing a meal. Limit salt and sugar use, and don't be afraid to ask if they would prefer softer foods that are less harsh on the teeth and digestive system. This is especially important if your loved one has dentures or swallowing disorders.
Plan for a relaxed journey
If you're traveling with your senior loved one this holiday season, be prepared to take things at a slower pace. A long car ride can be hard on seniors' bodies, so plenty of blankets and pillows to keep them comfortable will ease the strain. Be sure to take plenty of breaks and try to make a stop along the way if you are traveling long distances. Before you leave, make sure to have all necessary medications, devices, and walking aids such as canes or walkers.
Reach for a helping hand
Visiting Angels Farmington is here to assist with any concerns you may have for your loved ones throughout the holidays in the Farmington and Cape Girardeau areas. At such a busy time, a helping hand can go a long way. There's no place like home for the holidays, and our loved ones deserve to feel supported and comfortable in their family environment. Our dedicated and reliable caregivers have helped thousands of older adults live happily and safely in the comforts of home while providing their families with peace of mind. Get in touch today to learn more at (573) 664-1722.