Become an In-Home Caregiver with Visiting Angels Today
Visiting Angels of Farmington MO is seeking compassionate & reliable caregivers to provide assistance to senior clients who live in Farmington, Iron, St. Francois, Ste. Genevieve, Perry, Cape Girardeau counties, and surrounding areas. As a caregiver you will be helping our local seniors live safely and comfortably in their own homes.
Whether you are starting your career or are a seasoned caregiver, we encourage you to apply. No previous experience required, we will train! Positions are available to start immediately.
Requirements:
Must have a strong sense of professionalism and must be reliable
Valid Driver's License REQUIRED
Must have personal, reliable transportation to and from shifts
Must be 18 years of age or older
Self-directed and able to work with minimal supervision
Must comply with all agency policies
Dementia/Alzheimer's experience a plus
CNA a plus
Responsibilities:
Provides personal one-on-one care to the client
Provides continuous companionship for the client while on duty
Assists in meal planning, purchases of foods, and food preparation
Washes dishes and cleans the kitchen after meals
Assists the client to live in a clean, healthy, and safe environment
Observes the client's general physical, emotional, and mental conditions, and reports all changes in condition
Keeps appropriate records of all activity while in the client's home
Provides a sense of security for the client and protects the client as much as possible from any harm resulting from the debilitating effects of his or her illness
Assists client as needed, excluding medical care
Communicates availability to work with the Coordinator on a weekly basis or as required
Benefits:
Competitive pay
"Next Day Pay" - Don't wait until payday - receive early access to earned wages
We treat you well because we are thankful for the work you do
We provide excellent communication and feedback to our employees
Full & part time shifts. Your schedule can be tailored to your availability
Work close to home – We do our best to find assignments close to home
Paid training opportunities for career growth
PTO - Earned vacation time
401K
Referral bonus compensation
& ask about our SIGN-ON BONUS!
About Visiting Angels Farmington, MO
Visiting Angels of Farmington is part of the nation's leading, nationally respected network of essential personal home care service agencies. Our community knows us well and trusts us to provide quality senior care, personal care, respite care, and companion care to their loved ones.
Visiting Angels Farmington, MO is recognized among the best employers of in-home caregivers in the region and was awarded 2023 Best of Home Care – Employer of Choice Award from HCP.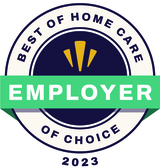 Apply for Caregiver Jobs
You can help the seniors in your community by becoming an at-home caregiver. We strongly encourage all interested applicants to apply. You may apply using the form below or by giving us a call at 573-664-1722.