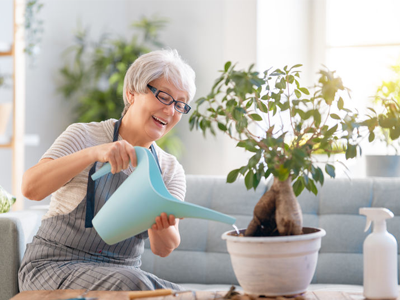 Bringing the Outside In
Although the cold, bitter winter had many of us wishing for hotter summer days, the summer season also has its own disadvantages. The heat and humidity make it challenging for some older adults to enjoy the great outdoors. According to the Mayo Clinic, adults 65 years and older are less likely to sense and respond to changes in temperature. This leaves them vulnerable to heat exhaustion or heat stroke.

The best way to prevent heat-related illnesses is to stay inside, where it's cooler. Yet, older adults can reap the benefits of nature from the comfort of the indoors. Here are five ways to bring the outside in on those hot summer days.

Plant a Windowsill Garden

Older adults who love to garden can garden with ease indoors. Growing herbs is an easy and fun way to bring the outside in. Plant herbs in pint-sized pots, either from seed or from a starter plant. Then, find a sunny windowsill to place the herbs. Water as needed and enjoy adding fresh flavor to your meals straight from your windowsill garden.

Recreate a Beach

Kinetic sand isn't just for the kids! Purchase or make Kinetic sand—you can find various recipes and instructions on how to do this yourself online. Then, place the sand in a container and dig right in. Add shells from a past trip to the beach or use a dull stick to draw patterns in the sand. Working with sand is therapeutic, especially for older adults. It can help alleviate pain from arthritis and improve fine motor skills. It can also lead to a true sense of calm; thanks to the sensory stimulation it provides.

Create a Wildlife Haven

Ask a family member to help you create a wildlife haven to attract birds and other wildlife to your backyard. Place bird feeders or birdbaths outdoors, where you can easily see activity happening from indoors. Once a week, fill up your bird feeder and let the rain take care of filling the birdbath. Plant a butterfly bush or native food sources to attract other wildlife. Then, grab a pair of binoculars and enjoy watching wildlife while keeping cool inside.

Take a Virtual Hike

Explore the great outdoors from the comfort of your living room. Check your local library for documentaries about the great outdoors. Explore available nature programs on streaming services that you subscribe to as well. Whether it's touring national parks or learning about the oceans and beaches, you're sure to feel as if you're outside while staying cool indoors.

Build a Terrarium

Another fun way to bring the outside in is to build your own terrarium filled with items found right outside your home. Collect an assortment of rocks, pebbles, flowers, succulents, and/or shells; whatever happens to be in the yard. Then, begin to build your terrarium in a glass bowl or large vase. In addition to a terrarium, consider purchasing various indoor house plants and placing them around your home. Houseplants are good for your health, help clean and filter the air, and can give you a sense of purpose to help pass those hot summer days.

As summer heats up, let Visiting Angels Fond du Lac help keep you safe, cool, and engaged. Our comprehensive approach to senior home care allows us to offer companionship alongside our personal care services. If you're finding the summer months to be mundane, let us liven up your days. Our compassionate caregivers can assist you with bringing the outside in so that you can reap the benefits of nature even when it's too hot to be outdoors. To learn more about how we can help you have a seamless summer, please get in touch with us today by calling 920-375-5555.