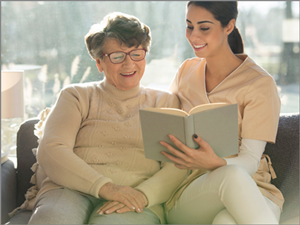 Why Work for Visiting Angels Fond du Lac?
Professional caregiving is a rewarding career that allows employees to make a positive difference in the lives of others. Many caregivers experience pride and joy in their role as a caregiver. There's a true sense of purpose in the work as a caregiver that isn't found in other desk jobs. Becoming a caregiver improves the lives of others, but it also improves the individual's life. Caregivers have opportunities to grow in knowledge and put into immediate practice new skills acquired through ongoing training. It can feel good to know you're making a difference in the life of another senior, as well as the senior's family. It's certainly a job that isn't mundane. Each day brings new adventures, whether it's interacting with a new client or finding new ways to engage a familiar client.
If you are looking for a change in your current work situation, perhaps it's time to consider a rewarding career as a professional caregiver with Visiting Angels Fond du Lac. Here are four reasons you should choose to work with us, instead of another home care company or as a private duty caregiver.
We are Licensed, Bonded, and Insured

Visiting Angels Fond du Lac meets all insurance, bonding, and licensing requirements. This means you can have peace of mind that we operate and abide by certain governmentally regulated requirements to provide hands-on care. In addition to a professional interview, all potential caregivers undergo a thorough background check and reference checks. We do not cut corners to meet demand. We treat our caregivers with great respect and look for new employees who are passionate about assisting the elderly.
We Offer Flexible Hours
Because we are a home care company, we can provide caregivers with a flexible schedule. We offer part-time and full-time positions that include daytime, evening, weekday, and weekend hours. We operate as a team mentality, meaning that we help one another out when needed. We understand the importance of family life and work with our caregivers to develop a schedule that enables them to balance their personal life against a gratifying caregiving career.
We are Nationally Reputable
Our company is a 2019 recipient of the "Best of Home Care Provider of Choice" award. We have earned a reputation as one of the nation's leading home care brands for caregivers. Visiting Angels is one of only ten brands endorsed as a Best of Home Care® National Provider among the thousands of home care companies across the nation. When you choose to work for Visiting Angels Fond du Lac, you are joining a reputable team in both Wisconsin and across the U.S.
We Take Care of Our Caregivers
Finally, Visiting Angels Fond du Lac is committed to taking care of our caregivers. We do this in a variety of ways. We offer competitive pay that begins day one of orientation. We offer paid training, paid shadow training, and paid meet-and-greet with new clients. Our caregivers have opportunities to advance as they desire. We ensure the ongoing education of our caregivers, so they stay current and learn new approaches to caregiving. Most importantly, we provide a supportive office staff and management team that are available for our caregivers. We listen to our caregivers' feedback and recognize the valuable insight they have regarding each of our clients.
Visiting Angels Fond du Lac is currently seeking applicants for professional caregivers. If you're looking for a rewarding career, look no further than becoming a professional caregiver. Apply with us today and take that first step in making a positive impact on the life of a senior who desperately needs help.