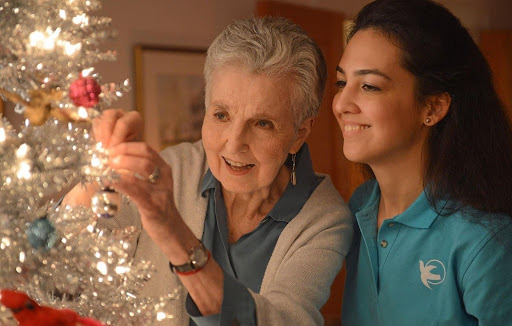 4 Wonderful Reasons to Be a Senior Caregiver During the Holidays
Working with seniors in our community is a joy all year round, but something about the holiday season makes it even more enjoyable. Whether it's the twinkling lights, cookies, or the spirit of giving that blossoms, the end of the year can be a great time to help your senior clients make the most of the holiday season–and give you a boost that will take you into the new year!
With decades of experience serving senior clients and their families during the holidays, our Visiting Angels Flagstaff, Arizona, team offered some ways that being a senior caregiver during the holidays is very special.
No One Spends the Holidays Alone
About one in three seniors live alone in their homes, making the holiday season somewhat lonely. Seniors who live alone may be less likely to decorate, enjoy old-fashioned traditions, and reminisce of past holidays. As a companion caregiver, you can help your clients feel the holiday spirit. Some caregivers bring cookies or treats or cook a holiday meal with their clients; others help their clients shop for loved ones. Our Visiting Angels Flagstaff team has been known to sit around the Christmas tree with their clients with a cup of coffee.
Deck the Halls
Holiday decorations can be a beast to put up and even more annoying to take down. For homebound seniors, decorations may be out of the question due to physical limitations or space. When you're a Visiting Angels Flagstaff caregiver, you can help your clients clean up their space, grab the stockings or menorah out of storage, and set your clients up with some yuletide decor.
Santa's Helper
Many of our senior caregivers become a part of their client's family – and that means they can help their clients find the perfect gift for their loved ones. As part of some home care services, our caregivers run errands and help clients keep their homes running smoothly. During the holidays, these tasks may include a lot more ribbons, tape, and tissue paper! Giving is always more fun than receiving, and you'll feel great knowing you play a small role in helping your client give from their heart.
Rest For the Weary
The holiday season can be a stressful time for many families. Add on care for an elderly loved one to the mix, and they become downright chaotic. Respite care services are a benefit this time of year because they take some stress off the family while providing exceptional care to the client. Instead of missing a holiday event, your client families can enjoy the spirit of the season with a sense of peace that their senior is in good hands with you.
Spread Joy as a Visiting Angels Flagstaff Caregiver
We're searching for caring, professional individuals to help us serve our senior communities, especially during the holidays. Senior caregiving is a wonderfully rewarding chance to get to know your senior client, add some fun to their holiday season, and give their family peace of mind. If you are ready to make a difference, apply online or chat online with our recruitment agent. Be part of something extraordinary with Visiting Angels Flagstaff!