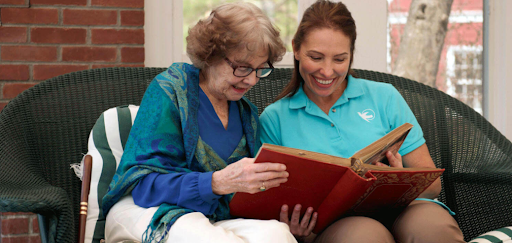 The Common Challenges of Professional Senior Caregiving
If you've been around someone caring for an elderly loved one, you know it's not always easy. Whether the person you care for has dementia, mobility problems, or nothing more than advanced age, there can be challenges with their personality and care needs. At Visiting Angels Flagstaff, we know it's essential to find ways to make your job easier so that you can provide compassionate in-home care.
Our Visiting Angels Flagstaff team will discuss some of the common challenges of being a senior in-home caregiver and how to manage them effectively.
Emotional Toll of Professional Caregiving
Caring for seniors can be incredibly fulfilling. As a professional caregiver with Visiting Angels Flagstaff, you'll see a more intimate side of your clients. You can't help but become invested when you're helping someone with their basic needs, day in and day out. The rewarding moments are many! Helping an aging adult remain in their own home is one of the most gratifying things you can do.
However, it's easy to become so invested in the job that you forget to take care of yourself! When the emotional toll becomes overwhelming, take a day off, talk to a caring coworker, or listen to comforting and relaxing music while you're working. Meditation and some quiet time to reset your thoughts can also help.
Work/Life Balance
Some caregivers have difficulty separating their work life from their personal life by taking worries about their senior client's home with them or working outside the scope of their role as a professional caregiver. However, for the good of your physical and mental health, it's essential to keep your personal and work life separate so that you don't add the stress of professional caregiving on top of family stress.
Difficult Senior Clients
You may find yourself caring for a senior who is particularly difficult. These elderly clients may refuse help from other individuals and family members or make your job more challenging.
There are certain things you can do to help you deal with demanding clients. First, try not to take it personally. This is not a natural tendency when caring for someone, but it's essential if things get tough. Try to remember that no matter what they say or do, this person has been through a lot in life and deserves love and compassion just like anyone else.
Next, stay calm, make eye contact, and listen. Many of the difficult senior clients haven't experienced this kind of interaction before. They may need reassurance that you're there to help them and not judge their behavior or old habits.
Finally, don't forget to ask for feedback from your Visiting Angels Flagstaff team. Often, you'll discover a breakthrough to connect better with your senior client and develop a beautiful caregiver relationship with them!
Dealing With Difficult Family
In most situations, the immediate family is on the same page regarding their loved one's care needs. Still, you may run into challenges with other members of your senior client's family. In situations like these, the Visiting Angels Flagstaff team will work directly with the client's family to resolve any issues. The caregiver's essential role is to provide care to the best of their ability for their clients.
Join The Visiting Angels Flagstaff Team
If you've been considering a career as a senior caregiver, the rewards are abundant and far outweigh the challenges. We provide continuous training for all our caregivers to help them discover the best parts of senior caregiving and love their jobs! If you learn how to manage the challenges, you can enjoy an incredibly fulfilling career that lasts for years! Ready to start? Apply today!