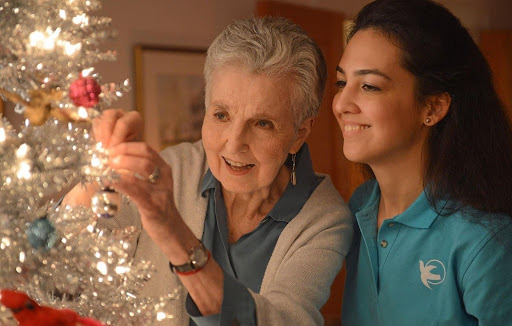 What To Expect as Visiting Angels Caregiver
As we age, we tend to need more assistance. Health concerns, weakness, memory loss, and slowing metabolism can make it challenging to do the everyday tasks once second nature. At Visiting Angels Flagstaff, we believe seniors can still live a healthy, whole life in the comfort of their own home, which is why we offer a variety of services to help seniors age with dignity at home.
Our senior caregivers are the center of what we do. We depend on our caring, compassionate team to support our clients and their families. Most of the Visiting Angels Flagstaff team will admit that each day is different–varying clients with specific needs can make for a unique work week!
If you're considering a career as a professional senior caregiver, learn what to expect when working with Visiting Angels Flagstaff!
What is a Senior Caregiver and What Duties Do They Perform?
A professional senior caregiver is a non-family member who helps care for an aging individual. They may also be called a companion caregiver. A senior caregiver can perform many duties, depending on the senior's needs, including assisting with personal hygiene, cooking meals, doing housework, providing emotional support and companionship, managing medications and transportation.
When deciding to become a caregiver, you should have an idea of what you'll be starting. At Visiting Angels Flagstaff, we offer several categories of care for senior clients and their families.
With our senior care services, elderly adults can continue living independently with mobility, personal care, and homemaking assistance.
This program provides daily care for seniors who need help with housekeeping, meal prep, and light chores. It provides services like meal planning, cooking, shopping, and other errands.
We offer end-of-life care services that help seniors in palliative care and support their mental, emotional, social, and spiritual needs. We aim to elevate and maximize the quality of life and promise to keep individuals involved in what matters most.
What are the Requirements for Becoming a Visiting Angels Caregiver?
We don't require extensive experience for our caregivers and provide training and resources to help them succeed with client care. Caregivers need to be compassionate so that they can give necessary attention under challenging times. They should be cooperative and have good communication skills to work with clients and communicate with their families.
Other requirements include:
Strong work ethic
Dependability
Patience and positivity
Our caring staff provides home care to families in need of hope. They take on helping with chores and providing more time for the primary caregiver. With less stress on the family, their lives become healthier and happier.
How to Get Started with Visiting Angels Flagstaff
The demand for caregivers increases every year and we are searching for quality caregivers to join our team. Getting started with the process is easy! Visit our website and fill out the form to get in touch with our recruitment team. You can also create a chat with our recruiting assistance by clicking the chat button on the lower right corner. We can't wait to discuss our caregiving openings with you!