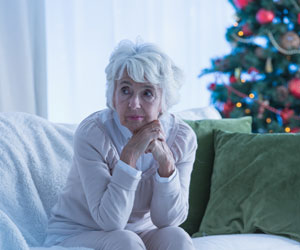 Common Challenges Seniors Face During the Holiday Season
The holiday season is supposed to be a time of peace and joy. However, for many seniors, it can be difficult to remain cheerful. The added stress of the holidays can exacerbate chronic health conditions and put seniors at risk for further medical complications. Seniors with Alzheimer's or dementia can experience agitation as the holidays often disrupt their routines. Although many seniors look forward to gathering with family, the holiday season can leave them feeling exhausted and burnt out.
This season, consider your aging loved one's health and well-being as you make your holiday plans. Below are common challenges seniors face during the holiday season and tips families can implement so that everyone stays merry and bright.
Limited Mobility

Many seniors cannot move about as they once did. Pain and physical limitations cause many seniors to lose mobility. Vision decline can make it challenging for seniors to see where they're going. Families often overlook their aging loved one's mobility as they plan outings, take them shopping, or welcome them into their homes.

This holiday season, consider your loved one's mobility and endurance before you make plans. Help them complete their holiday shopping online instead of taking them to overcrowded stores where they might trip and fall. Choose holiday activities that match their mobility, such as going for a local Christmas light drive-thru instead of one that requires a lot of walking. If you're hosting a family gathering, keep pathways clear of clutter and decor so that they can navigate around more easily.
Loneliness and Isolation
The holiday season amplifies feelings of loneliness and isolation in many seniors. Some pine for loved ones who have passed on. Others may feel left out when their adult children start their own holiday traditions. What is meant to be a joyful time of year can quickly trigger feelings of isolation and loneliness. If left unchecked, these feelings can quickly escalate to depression.
Be mindful of your loved one's mood this holiday season. Check-in more frequently with them. Consider events or activities that you all can do together and invite them to join you. Spend time reminiscing with them about previous holiday seasons. Listen to their stories and ask how certain family traditions came to be. Explore ways to help them connect with other seniors in Tarrant County. Sixty and Better offers classes and services throughout Tarrant County. Check out the PEARLS Program, a local depression management program for seniors.
Memory Loss
For seniors with memory loss, such as Alzheimer's or dementia, the holiday season poses other challenges altogether. Although they can participate in the holiday festivities, the disease itself can cause unwanted behaviors and irrational emotions. Large crowds and added stimulation can cause seniors with memory loss to become agitated. They can experience heightened anxiety as their routines are disrupted.


If your aging loved one suffers from Alzheimer's or dementia, help them navigate the holiday season by keeping it simple. Stick to their usual routine as much as possible. Give them a quiet place to retreat during family gatherings. Plan events earlier in the day, when they feel their best. Keep finger foods within reach so that they can eat when they feel hungry. Register your loved one for dementia-friendly holiday activities at Dementia Friendly Fort Worth.

As you consider how to navigate this holiday season with your aging loved one, perhaps it's time for professional help. Visiting Angels Fort Worth is here for you. We are one of the most trusted resources for elderly care services. All our Angel companions possess the character traits we want to see in someone caring for our loved ones. Many families in Fort Worth, TX and the surrounding areas have chosen us for our superior level of elderly care services and our commitment to providing that care with dignity and respect. To learn more about our elder care services and what we can provide for your loved one, please contact us today by calling 817-877-1616.