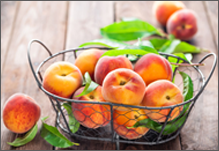 The Power of the Peach: Five Amazing Benefits for Older Adults
President Regan first established National Peach Month in 1982. Since then, National Peach Month has been celebrated annually in August. Synonymous with summer, this fuzzy fruit is packed with vitamins and nutrients. They make a great snack on their own, or they can add variety to any meal.
Whether you purchase a bunch at your local farmer's market this month or stock up on peaches from your local grocer, be sure to take advantage of the peach while it's in its prime. Here are five excellent benefits of peaches for older adults
Peaches are a Great Source of Vitamins A and C
Peaches are rich in vitamins A and C, amongst other nutrients. They are considered a moderate source of antioxidants and vitamin C, which is essential for helping your body heal wounds. Vitamin C is also responsible for fighting infections and helps to eliminate harmful free radicals that can cause cancer. Peaches are also a moderate source of vitamin A, which helps build healthy skin and helps prevent problems with night vision.
Peaches Help the Digestive Tract
Comprised of soluble and insoluble fiber, peaches aid digestion. Soluble fiber dissolves in water and is metabolized by the "good" bacteria in the intestines. The beneficial bacteria then produce short-chain fatty acids, which feed the cells of the gut. Essentially, peaches help improve gut health. Older adults who struggle with digestive disorders, like irritable bowel syndrome, can benefit from the soluble fiber found in peaches. Likewise, the insoluble fiber found in peaches adds bulk to stool. This helps to reduce constipation by keeping things moving through the digestive system.
Peaches Support Weight Loss
Peaches are low in calories and high in water content. Unlike junk foods, peaches don't contain saturated fats, cholesterol, or sodium. They make a great substitution to any dessert, replacing harmful and high caloric added sugars. If you're an older adult who's struggling to lose weight, try replacing desserts with a bowl of diced peaches topped with a spoonful of Greek vanilla yogurt. This simple dessert can satisfy your sweet tooth without adding to your waistline.
Peaches Help Muscles and Nerves Function Properly
To function correctly, our muscles and nerves need adequate potassium. Potassium helps your nerves function and muscles contract. It also can preserve muscle mass in older adults. If you've ever been low in potassium, you've most likely experienced muscle weakness and/or cramps. Peaches are a good source of potassium. Two small peaches have more potassium than half a banana.
Peaches Protect Your Skin
In addition to vitamin C, peaches contain beta carotene. Beta carotene is what gives peaches their bright red-orange pigment. When ingested, it gives skin a natural glow while protecting skin from sun damage. The high water content of peaches can help older adults stay hydrated, which also helps revitalize skin.
Whether you need assistance navigating your local farmer's market to pick up a bag of peaches or need more help at home, look no further than Visiting Angels Fort Worth. We are one of the most trusted resources for elderly care services. Our flexible care plans allow you to remain in charge of your schedule and maintain your routine. As your needs change over time, we can adapt to meet new care needs. When you choose Visiting Angels for your elderly care services, you can rest assured you will receive compassionate and dignified care. To learn more, please get in touch with us today by calling 817-877-1616.