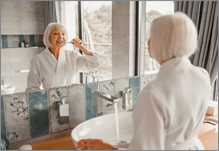 Why Dental Health Matters for Seniors
From gum care before the first tooth eruption to caring for one's teeth in older adulthood, dental health is important at every stage of life. Older adults may be tempted to neglect their dental hygiene, especially since Medicare doesn't cover routine dental visits. However, older adults are more likely to experience complications with their teeth and gums as they age.
Oral health is essential to overall health. It's important that older adults prioritize their oral care to reduce their risk of dentures, dental implants, and other chronic health conditions. Here are four reasons why dental health matters for seniors and a few tips to help you improve your oral health today.
Prevent Common Problems
Older adults have an increased risk for common oral health problems. Certain medications common among the older adult population can cause dry mouth. Other common chronic oral health problems include tooth loss, tooth decay, and periodontal disease. If these conditions are left untreated, they can cause extensive tooth decay and gum disease. Proper dental care lowers the risk for these common oral health problems and can even prevent them from occurring altogether.
Supports Healthy Appetite
Healthy teeth and gums support a healthy appetite in older adults. Older adults who experience toothaches or other dental complications tend to have a decreased appetite. Chewing healthy, nutritious foods, such as fibrous fruits and vegetables, becomes a challenge. Poor dental hygiene can also lead to unwanted weight loss. Our mouths play a huge role in eating. Proper dental care ensures that older adults can continue to consume vital nutrients that support healthy aging.
Decreases Risk of Heart Disease
There's a connection between dental health and heart disease. The same bacteria that infect gums, causing gingivitis or periodontitis, also travel to blood vessels throughout the body. This can cause bacterial infection in the bloodstream, resulting in inflammation and damage to the blood vessels. One study found that those who brushed their teeth less than twice a day, for less than the recommended two minutes, had a three-fold increased risk of heart attack, heart failure, or stroke.
Lowers Risk of Pneumonia
Poor dental hygiene increases the risk for lung infections, such as pneumonia, caused by certain bacteria found in the mouth. When bacteria lingers in the mouth, it travels from the mouth to the lungs. This can lead to pneumonia, amongst other lung diseases. Brushing and flossing regularly rids the mouth of bacteria and dental plaque before it can spread to other areas of the body.
Tips to Improve Your Oral Health
The American Dental Association recommends that everyone brush their teeth twice a day and floss daily. Set reminders on your phone to help you remember to brush your teeth and floss. Brush before bed so that bacteria doesn't wreak havoc on your body while you sleep. Drink plenty of water to help prevent dry mouth and to keep your mouth moist. Visit the dentist at regular intervals to keep your teeth healthy and prevent dental problems from worsening over time.

Visiting Angels Fort Worth is here for older adults who need to brush up on their dental hygiene. Our compassionate caregivers can provide tips and reminders to help you take care of your dental health. We provide seniors with dressing assistance and personal care, in addition to meal preparation, light housekeeping, and other self-care tasks. You determine your care needs, and we'll create a customized care plan that meets your needs. Please get in touch with us today by calling 817-877-1616 to learn more.