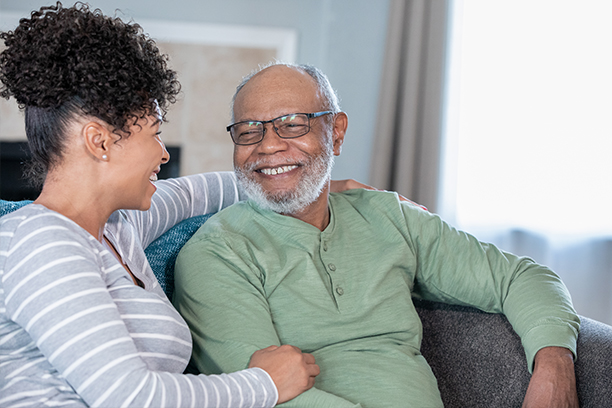 Chronic Illness Support for Seniors in and Near Frederick, MD
As your loved one ages, it's only normal that they'll need assistance with daily tasks. If they have a long-term health problem, it could make aging in place at home a lot harder for them. Even if they have trouble doing things like washing the dishes, getting dressed or getting to appointments on time, they may still value their independence and fear being relocated to an assisted living facility or nursing home. Therefore, it may be in your loved one's best interest to look into options for private home care services.
Your loved one may be able to obtain the help they need without having to uproot their lives thanks to the senior support services provided by Visiting Angels Frederick. Our caregivers' first focus is making sure that our elderly clients in Frederick, Middletown, New Market, Walkersville and the rest of Frederick County are able to live out their golden years in the comfort of their own homes, surrounded by the things that mean the most to them.
Call 301-418-6172 to learn more about chronic illness support today!
How Does Chronic Illness Support Benefit Seniors in Frederick County?
As a result of their age, many seniors need help in managing a chronic health condition, but this help is more likely to be provided in the home than in the doctor's office. If an elderly loved one needs help managing symptoms of chronic conditions, having access to private home care services can make a world of difference.
Visiting Angels Frederick provides a range of in-home senior support services to help our clients with chronic diseases manage their symptoms. Our one-on-one approach to private home care services gives seniors the individualized attention they need just when it's needed most. The goal of chronic illness support from Visiting Angels is to maximize the number of "good days" for each individual client by assisting them in taking charge of their own plan of care, thereby preserving their dignity and respecting their right to make decisions about their own health care in accordance with their own values.
Our caregivers provide a variety of senior support services for clients living with chronic illnesses, including:
Planning and preparing meals
Remembering to take medication
Light housekeeping
Bathing, grooming, and getting dressed
Getting from room to room
Transportation to medical appointments and social gatherings
Running errands
And so much more
It might be difficult to keep tabs on an elderly relative who is dealing with a chronic illness. That's why we'll be in constant contact with your family to report any changes in your loved one's condition or demeanor that we see. When loved ones know everything is okay, it's much simpler to make any required modifications to care.
Visiting Angels Frederick's in-home senior support services will provide you peace of mind that your loved one is receiving quality attention and support in their own home.
Learn more about chronic illness support from Visiting Angels Frederick by calling our office at 301-418-6172 or filling out our form and scheduling a free in-home consultation!
Serving Frederick, Middletown, New Market and surrounding areas in Frederick County
Visiting Angels
FREDERICK, MD
801 Toll House Ave #A3
Frederick, MD 21701
Phone: 301-418-6172
R2176