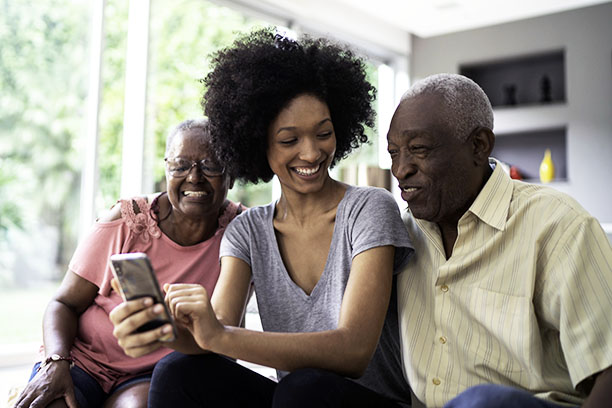 Helping Seniors in and Around Frederick, MD Embrace Technology
At Visiting Angels Frederick, we know that providing senior care requires a holistic approach. This means caring for the entire individual, both inside and outside of the home. That's why our home care companions not only assist clients with everyday tasks like cooking and cleaning, but they also encourage seniors to stay socially engaged and interact with others. In addition to in-person communication and companionship, we also provide options for seniors to stay in touch with friends and family while remaining at home.
By utilizing modern technology, our Social Care program has helped seniors in Frederick, Middletown, New Market and throughout Frederick County, MD, stay connected with friends, family members and neighbors by using platforms like Facebook, Skype, FaceTime, email and other digital tools for over 21 years.
Call 301-418-6172 today to learn how our home care companions can help your loved one!
How Can Seniors in Frederick County Benefit from Digital Tools?
Recent studies have shown seniors can benefit from using technology to connect with others in the following ways:
Surfing the internet can reduce depression in seniors by 20 percent.*


Seniors who use social networking sites like Facebook showed a 25 percent improvement in mental "updating" skills - essentially improving their working memory.**


Seniors who use Facebook also have a positive emotional experience when measured by breathing rates, brain stimulation and pupil dilation.***
Elderly people in Frederick County who struggle with learning new technologies may find it more challenging to adopt a digital social life. Some may have trouble remembering how to log into their email or remember how to use Facebook Messenger. Others may have trouble with using a touchscreen on a smartphone to send texts to family and friends. Fortunately, with the Social Care program from Visiting Angels Frederick, your loved one can receive help with learning how to use these new tools and platforms from a qualified home care companion.
How Our Home Care Companions Help Frederick-Area Seniors
Our Social Care Program includes helping seniors learn how to:
Use a cell phone
Text, send e-mail, Skype or use FaceTime
Create a Facebook page/account and interact with family and friends
Log in, shop online or research information on a search engine
Unlike other local agencies in Frederick County, Visiting Angels uses a personalized approach to in-home senior care. That means we'll work with you to create a care plan that includes the services your loved one needs while working with their schedule. Our home care companions can visit your loved one during the day to help them set up a Facebook account, in the evening to help Facetime with family members before bed and so much more. Our goal is to make aging in place positive and enriching for seniors by not only helping with daily tasks, but helping them build strong relationships with those they care about.
You'll know your loved one is in good hands when you choose home care companions from Visiting Angels Frederick.
To schedule a free in-home consultation, call our Frederick, MD, office at 301-418-6172 or fill out our form today!

* Washington, D.C. based Phoenix Center
**University of Arizona
*** Journal Cyberpsychology, Behavior, and Social Networking
Serving Frederick, Middletown, New Market and surrounding areas in Frederick County
Visiting Angels
FREDERICK, MD
801 Toll House Ave #A3
Frederick, MD 21701
Phone: 301-418-6172
R2176