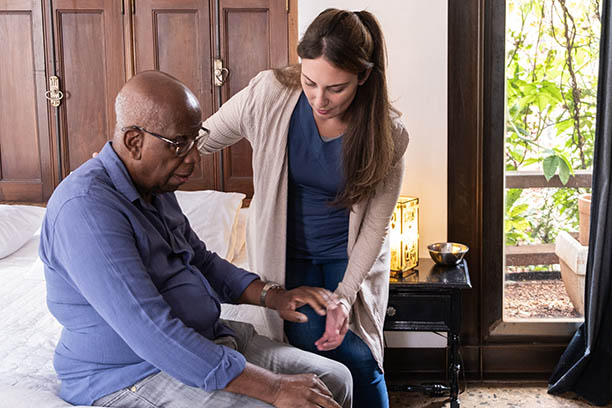 Certified Palliative Care Throughout Fremont, CA and Neighboring Areas
Certified Palliative Care is a type of senior care focusing on relieving symptoms of various illnesses and diseases. Many times, this type of care can be provided at home in a comfortable environment. With the increased number of individuals who suffer from incurable conditions or have advanced medical problems, home care agencies are being used more often.
Visiting Angels Offers Certified Palliative Care to Provide Support for a Senior's Overall Needs in Fremont, Union City, Newark, and Surrounding Areas
Our holistic approach can provide emotional, social, spiritual, and physical comfort to seniors while allowing them to remain in their own homes instead of moving into a care facility. There are also some other advantages of using a home care agency that can help you find the right provider for your particular situation.
How We Help
Visiting Angels of Fremont is proud to provide essential personal home care services for families just like yours in Fremont, Newark, Union City, and the surrounding area. Our Certified Palliative Care can help increase the quality of life of your loved one, no matter their life expectancy.
What Is Holistic Care?
Holistic care can help seniors with a diverse range of needs, no matter their life expectancy.
A palliative philosophy of care is closely aligned with our mission at Visiting Angels of Fremont, which is to support complete health:
Physical Health
Focusing on a senior's physical needs like mobility assistance, fall prevention, and chronic conditions that limit functionality.


Emotional Health
Our caregivers are there to be a companion to their elderly clients; they are a shoulder to lean on, someone to talk to, and a friend when they are in need of emotional support.


Social Health
All of our care plans include transportation assistance to doctor's appointments, social functions, events, and more. Our aides are happy to take your loved one to the park, out for coffee, or to grab a bite to eat.


Spiritual Health
For keeping seniors spiritually fulfilled, our caregivers are more than happy to take them to church or wherever they worship.
We use a compassionate approach, offer one-on-one support, and work hard to listen to your loved one's specific needs and preferences, whether that is transportation to a specific church service or helping them access a movie or musician who reminds them of their younger years. Depression, loneliness, stress, and anxiety can all have major impacts on health, including physical health, and our goal is to combat these stressors and alleviate other everyday needs.
Our experienced elderly care providers offer a wide range of home care options to achieve this. You will work with a care coordinator to build a customized care plan that considers your loved one's specific needs, wants, and preferences. We focus specifically on increasing the comfort and well-being of our clients.
The Benefits of In-Home Holistic Care
There are many benefits to opting for Certified Palliative Care from Visiting Angels of Fremont.
Some of the benefits include:
We prioritize your loved one's needs, aspirations, and wants.
Our caregivers will focus on your loved one's health AND happiness and will do what it takes to improve both.
With a caregiver, your loved one will have someone there to assist with pain/symptom management.
A lot of our clients say that they no longer have to go to the doctor as frequently due to a caregiver assisting with pain and symptom management.
Any of our in-home care services are available to you and your loved one.
Contact Visiting Angels of Fremont to Learn More
If you are concerned about the well-being or health of a loved one, Visiting Angels of Fremont can help. We provide exceptional home care to seniors who are in need of assistance. Our Certified Palliative Care is sure to help your loved one age in the comfort of their own home.
Contact us today by clicking one of the buttons below to learn more about our Certified Palliative Care and wide range of senior home care services.


Serving Fremont, Newark, Union City, CA and the Surrounding Area
Visiting Angels
FREMONT, CA
39159 Paseo Padre Pkwy #110
Fremont, CA 94538
Phone: 510-284-0000
Fax: 510-284-0001