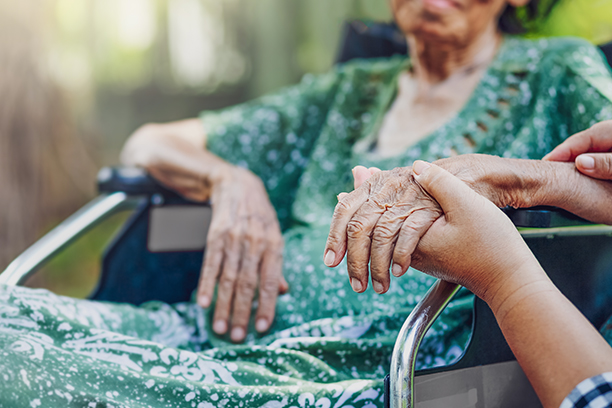 Long-Term Care at Home in Fremont, CA, and Nearby Areas
When elderly people have problems doing things like cooking and cleaning on their own, they typically turn to their children or other relatives for help. Nevertheless, significant age-related issues or a chronic condition might make caring for an elderly loved one tough over time. When a loved one needs more frequent or prolonged assistance than can be offered by family caregivers, it may be time to explore professional home care services.
Long-term care services from Visiting Angels of Fremont can allow your elderly loved one to remain in their own home for as long as they wish. Providing seniors in Fremont, Newark, Union City, and other areas of California with the individualized attention they need to assist them with their day-to-day tasks and satisfy their emotional, social, and physical needs is our specialty.
Why Do Families in Fremont Choose In-Home Care?
If an elderly relative has shown signs that they are having trouble caring for themselves, you may have considered placing them in an assisted living facility or nursing home. However, relocating a loved one with a neurological illness like dementia, which makes adapting to new situations difficult, to one of these institutions may cause them anguish, despite the fact that they get the care they need around the clock.
The good news is that your loved one does not have to leave the comfort of their own home to get the help and support they need thanks to Visiting Angels of Fremont's long-term care services. Care for your loved one may be personalized to their unique requirements, and you can help them locate a care provider whose personality and schedule complements their way of life. You can rest easy knowing that your loved one can receive the assistance they require to manage daily activities while remaining in their own home.
Why Choose Long-Term Care from Visiting Angels of Fremont?
Seniors who need a high level of care can count on Visiting Angels of Fremont's long-term care services for a wide range of solutions. Our caregivers will not only help your loved one with Activities of Daily Living (ADLs), but they will also check in with them to make sure they are taking their medications and taking other measures as directed by their doctors to alleviate the symptoms of chronic conditions and to satisfy their need for social connection via companionship and conversation.
If your loved one needs long-term care, Visiting Angels of Fremont can work around their schedule. No matter what time of day or night, on the weekend, or round-the-clock, our caregivers are here to help your family member.
Our home care services include:
Meal preparation
Personal care services, such as help with bathing, grooming and getting dressed
Light housekeeping services, such as laundry and sweeping
Medication reminders
Toileting and incontinence care
Transportation assistance
Help with running errands
Mobility assistance
And more
Do You Have Long-Term Care Insurance?
Many families in the Fremont area may struggle to afford long-term care due to high prices. The good news is that long-term care insurance may help alleviate some of the financial burden and make it possible for your loved one to have in-home care services for a longer length of time. Your loved one likely has a policy they bought in their forties or fifties that will make the expense of in-home care much more manageable now that they need it. Visiting Angels of Fremont will assist you in determining whether or not your loved one is covered by long-term care insurance.
No matter whether your loved one has long-term care insurance or not, we will do all in our ability to make sure their care is not only provided for, but also stays within their budget. Getting your loved one individualized care means you may spend less money without sacrificing quality. At Visiting Angels, we think that every family, regardless of their means, deserves the best care for their loved one.
Contact our Fremont, CA, office to schedule a free in-home consultation today!


Serving Fremont, Newark, Union City, CA and the Surrounding Area
Visiting Angels
FREMONT, CALIFORNIA
39159 Paseo Padre Pkwy #110
Fremont, CA 94538
Phone: 510-319-0326
Fax: 510-284-0001