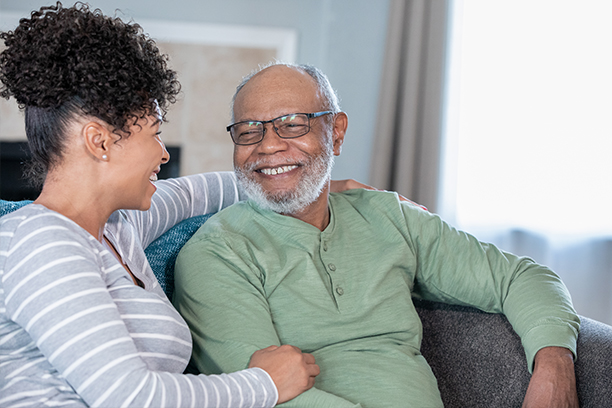 Visiting Angels of Fresno, CA Home Care Professionals Care for Seniors Who Are Living with Alzheimer's
In home support is essential when caring for someone with Alzheimer's. Visiting Angels of Fresno home care professionals can help families when they need assistance the most.
According to the Alzheimer's Foundation of America, as many as 5.1 million Americans live with Alzheimer's. Alzheimer's is a fatal brain disease due and condition that causes a slow decline in thinking, memory, and reasoning skills. It can be equally devastating and frightening to receive such a diagnosis, both to the individual and their family. The home care professionals at Visiting Angels of Fresno can help you make it through this situation.
Be on the lookout for these 10 Alzheimer's Warning Signs:
Memory loss: When memory loss disrupts daily life, such as not remembering names, places, or recent events, it's a red flag.

Difficulty with regular everyday tasks, be it at home or at work.

Trouble understanding spatial relationships and visual images: Lookout for problems with determining color or contrast, judging distance, or difficulty reading.

Challenges in planning or solving problems: If there are issues keeping track of monthly bills or following a simple recipe, mention this to your elder's doctor.

Confusion about time and location: People with Alzheimer's get confused with the passage of time and can lose track of dates and seasons.

New problems with speaking or writing: These signs include difficulty finding the right word to use, finishing their sentences, as well as issues following conversations or directions.

Changes in mood or personality: Typically, signs include persistent and rapid mood swings, disinterest or withdrawal from usual activities, suspicion, anxiety, fearlessness, and/or depression.

Decreased or poor judgment: There may be less attention to grooming and hygiene or issues with monetary scams.

Misplacing things and losing the ability to retrace steps: People with Alzheimer's may put things in unusual places or accuse others of stealing.
Withdrawal from work or social activities.
The Importance of an Evaluation and Screening
Should a doctor issue an Alzheimer's diagnosis, it is essential to be proactive to better manage the disease. The home care professionals at Visiting Angels of Fresno suggest the following steps:
Learn more about the disease. Two great resources are The Alzheimer's Association and The Alzheimer's Foundation of America.

Take care of your family member's legal, financial, and long-term care planning issues. You'll want to discuss their wishes with regards to future care and end-of-life issues. At Visiting Angels, our home care professionals can assist families with detailed senior care plans.

Use cognitive stimulation. Memory games, word puzzles, and music can help and provide a positive experience, both for the Alzheimer's patient and their care providers.

Build a support system. Taking care of someone with Alzheimer's can be overwhelming and stressful. Maintain your own mental and physical health by reaching out to us.

Arrange regular assistance from us. While you may be happy to provide your family member with daily care, the fact is, you'll need assistance, so you don't burn out. As such, consider hiring our professionals for daily or weekly assistance, including respite care.
Once a diagnosis is made, it is equally imperative to contact Visiting Angels of Fresno. Our home care professionals can design a customized care plan for your loved one.
Serving Fresno, Clovis and the Surrounding Areas
Visiting Angels
FRESNO, CA
2350 W Shaw Ave #129
Fresno, CA 93711
Phone: 559-500-2102
Fax: 213-985-2519
HCO #104700016