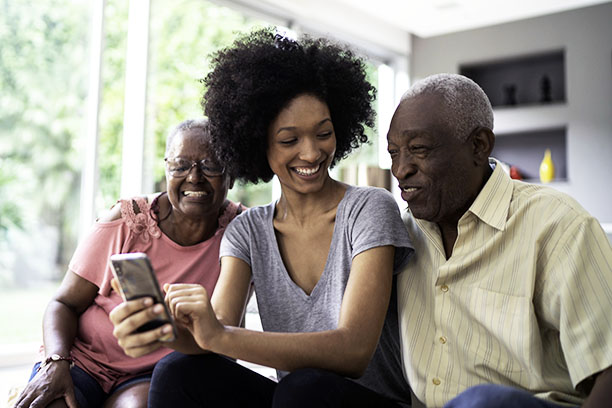 Visiting Angels Elder Care Uses Technology to Help Seniors Stay Social In Fresno, CA
Staying social at an old age is very beneficial for a senior's health. Visiting Angels of Fresno, CA allows your loved one to stay social through our elder care and different social programs.
At Visiting Angels of Fresno, we understand how important it is for our seniors to stay as social as possible. It's an important part of healthy aging that helps our clients stay as vibrant as they always have. Families are often separated by instances like distance and circumstance which can lead to weaning communication. But, thanks to advancing technology, our elder care helps our seniors stay connected with their families through mediums like Facebook, Skype, and Facetime. Our elder care program teaches seniors to do simple technological tasks to improve their independence and connect them with these families. These include using a cell phone, sending emails or texts, and how to create a Facebook page.
We know that our elder care and learning these tasks will push our seniors to be more social with their families and friends, despite how far they may be.
The Importance of Being Social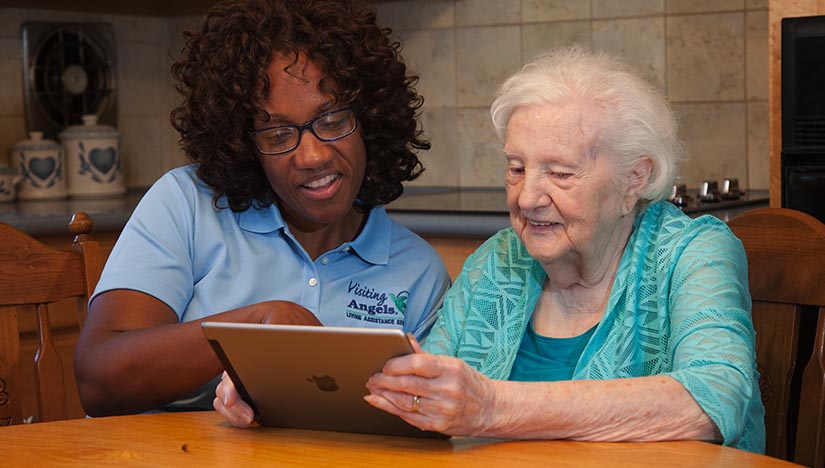 It's extremely important for seniors to stay connected with those around them. The Global Council on Brain Health (GCBH) recently released a report that stating that social engagement helps "thinking skills and slows cognitive decline later in life."
Maintaining those important relationships with friends and family helps seniors maintain their physical and mental health while improving their cognitive ability. Studies have suggested that those who end up chronically isolated often have a higher frequency of health issues. Through socialization, seniors can live happier and healthier lives.
There are many health benefits towards being social through our elder care, but here are some of the most prominent:
Lower blood pressure
Reduced risk for mental health issues such as depression
Potentially reduced the risk for Alzheimer's disease
Potentially reduced the risk of cardiovascular issues, some cancers, osteoporosis, and rheumatoid arthritis
Increased productivity
Better sleep
Social Care Research
The importance of being social in a senior's life is so immense that there is a wide variety of research showcasing its impact. A University of Arizona study found out that seniors who used Facebook showed a 25 percent improvement in "mental updating" skills. Essentially, this meant that they were constantly improving their working memory. In another study, they saw that seniors who used social networking sites, like Facebook, have a positive emotional experience. Additionally, a Washington D.C based Phoenix Center found out that surfing the internet can reduce depression in seniors by 25 percent.
Visiting Angels of Fresno can help your loved one stay social through our elder care program. Contact us to learn more.
Becaue of this program, I was able to experience two of the greatest joys in life – becoming a grandmother and seeing my son become a new father. Skyping and Facebooking with my son and his family are now a normal part of my life. It helps me feel like I'm still an important part of their lives even though I'm miles and miles away.

* Washington, D.C. based Phoenix Center
** Journal Cyberpsychology, Behavior, and Social Networking
Serving Fresno, Clovis and the Surrounding Areas
Visiting Angels
FRESNO, CA
2350 W Shaw Ave #129
Fresno, CA 93711
Phone: 559-500-2102
Fax: 213-985-2519
HCO #104700016