Alzheimer's Care Services in Fort Wayne: How to Cope When A Loved One Doesn't Remember You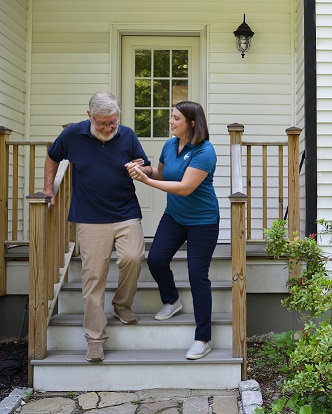 Dealing with the pain of watching a loved one, especially a parent, lose their memory of you can be devastating. At Visiting Angels® Fort Wayne, our Alzheimer's care service would like to share some ideas that may help you cope with this truly sad situation.
First, it's important to recognize that just because your loved one does not seem to remember you doesn't mean you are forgotten. As Alzheimer's progresses, the short-term memory goes first and then longer term. For this reason, it can be helpful to put together a book of pictures that form a timeline. You may even want to do more than one to focus on different relationships and/or the family as a whole.
The sooner you start this project, the more effective it can be. And the more often it's done–for example, ideally every day, will also likely have more of an impact.
Start with your baby picture, then different stages of life up to the present day. Make sure each picture is clearly labeled with your name and age at the time. Repeat the idea for the family or for a spouse, beginning with the time when you were first dating.
Another great option is if you have any old movie reels or VHS tapes that can be converted so they can enjoy a look at their past. Go back as far as you can to their childhood, and you may be surprised at the memories you trigger.
Whatever you do, don't give up on your loved one. They are still in there somewhere and, just like people in a coma, may recognize your presence in a soothing way. Be prepared that you will have good days and bad days as the disease progresses, but continue physical contact like hugs, rubbing their arms and, if they seem receptive, kisses on the cheek or head.
How Our Alzheimer's Care Services Can Help Seniors in Fort Wayne
Our specialized Alzheimer's care services have an established local reputation for providing compassionate care for seniors suffering from this horrible disease and relief to beleaguered family members, doing their best to cope.
We first meet with you and your loved one for a complimentary in-home consultation and thorough assessment of your needs. Next, we put together a fully personalized program for specialized Alzheimer's care that accommodates all your specific requirements.
Our caregivers are experts at making sure your loved one feels respected and able to retain as much independence as possible, carefully adapting as the disease progresses. They will encourage them to do the things they still can and safely guide them through the rest. Your fully vetted caregiver will be matched with your family according to your personalized needs. We also take great pride in matching you with a caregiver whose personality will be a good fit for you and your loved one. After all, personality is something most people suffering from Alzheimer's actually retain, and it does find a way to shine through.
We can help with a wide variety of important everyday tasks, such as:
Incontinence aid
Personal grooming and bathing
Medication reminders
Meal preparation
Light housekeeping assistance
Safe transportation and company to and from local destinations and appointments
And much more
Our Alzheimer's Care Service Area
As a locally owned and operated care provider, we're honored to work with families throughout:
Fort Wayne
Huntington
Columbia City
Northeast Indiana
And the surrounding communities
To learn more about how our Alzheimer's care service can help your family, reach out to our caring and warmhearted team of professionals at Visiting Angels Fort Wayne today.