How A Companion Caregiver in Fort Wayne Helps With Isolation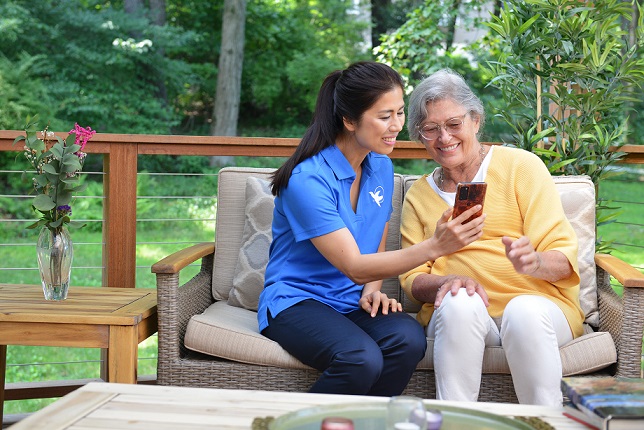 While most seniors will opt to age at home whenever they can, sometimes there are risks involved. Even for those who can move around the home safely and easily, social isolation can be a big risk—one with significant health consequences. At Visiting Angels® Fort Wayne, we can reduce these challenges and much more. With a companion caregiver in place, we can make sure your family member is always looked after.
Let's review how home care can alleviate many of the risks of isolation and loneliness year-round.
3 Ways A Companion Caregiver Can Reduce Social Isolation
It's estimated that one out of four seniors in America deal with social isolation. Being isolated is more than just an unpleasant experience—it also carries many health concerns, including cognitive decline and heart disease. Fortunately, regular home care can make a big difference:
We provide regular companionship. When you set up home care through our agency, we choose a dedicated caregiver to look after your loved one. The same companion caregiver will always visit your family member. It means seniors can always look forward to seeing a familiar, friendly face with each visit. Caregivers offer lively conversation, companionship, and emotional support—all meaningful sources of social interaction.
We keep seniors connected. When family and friends move away, it can be tough for seniors to stay in contact with them. That changes when home care is in the picture. We help our clients get online and stay connected to their loved ones. For seniors who wish to travel around Fort Wayne but can no longer drive, we'll even set up transportation on their behalf.
We make it easier to be social. Health issues can make it challenging to keep the house clean for guests or to leave the home for visits. It's one reason that seniors are particularly vulnerable to isolation. That said, home care can have a big impact. Caregivers can travel with seniors to social engagements, making sure they have support at all times. We can also keep the house clean and tidy for when guests visit.
Find Compassionate Home Care in Fort Wayne
When you choose our home care agency, we work closely with you and your family, providing exceptional care from a companion caregiver you trust. We're proud to assist seniors aging in place in:
Fort Wayne
Columbia City
Northeast Indiana
Huntington
And throughout the surrounding area
Learn more about our flexible and customized approach to home care. To find a companion caregiver for your loved one, speak to Visiting Angels Fort Wayne today.