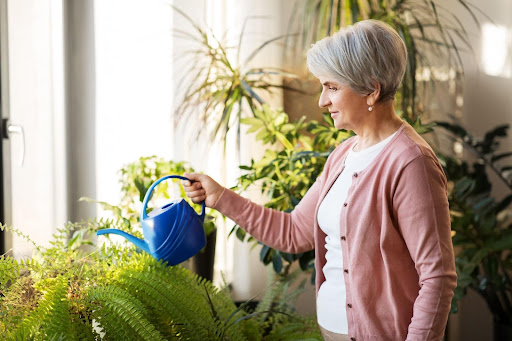 Benefits of Houseplants
People have always enjoyed growing plants and flowers within their homes, but recent years have seen significant growth in plant sales, making it a $17.08 billion market in 2022. But why are so many people filing their homes with houseplants? Researchers have looked at the benefits of plants for years, and some recent studies have uncovered promise in houseplants improving the well-being of those who have them.
Why should I get a houseplant?
Aside from looking pretty and making a space feel cozier, research suggests that houseplants may provide health and wellness benefits such as improved air quality, reduced stress, and productivity.
Improve air quality
Indoor air pollutants can accumulate and cause eye or throat irritation, headaches, or other health concerns. Plants can help remove some air pollutants through photosynthesis, taking in carbon dioxide and converting it into oxygen. Plants can also metabolize toxic chemicals and incorporate toxicants into plant tissue. While a single plant may not purify the air as well as an air purifier, cultivating a room of plants or having various plants throughout the house may improve indoor air quality.
Reduce stress
A 2015 study found houseplants can make people feel more comfortable and soothed. The study had participants participate in indoor gardening tasks and found working with plants lowered participants' stress response. The research also concludes plants may reduce both physiological and psychological stress.
Plants and flowers throughout the home may also improve your mood and promote relaxation and comfort. Additional research from 2017 finds working with plants through horticultural therapy may lessen feelings of depression and anxiety.
Encourage productivity
A houseplant may be a fantastic investment if you need the inspiration to get things done. One 1996 study found students who worked alongside plants in a campus computer lab worked 12 percent faster and exhibited less stress. Another study from 2004 found people have more creativity when in a room with plants. People even seem to have more productivity at work when they have plants in their workspace, according to a 2007 study.
What houseplants should I get?
Having houseplants sounds may benefit your well-being, but taking care of plants can be a lot of work. Thankfully, a few plants are perfect for beginners or people who don't want a significant commitment to caring for a new plant.
The snake plant is a tropical plant native to West Africa. It requires shade to partial sun and is drought-resistant so it won't need much watering. It is toxic to animals, so it's not a great option if you have pets.
Spider plants are adaptable houseplants that are easy to grow. They require well-drained soil and bright, indirect light.
Chinese Evergreens are durable plants that tolerate poor light and dry air and live on little water. However, provide them with well-draining soil and low-light conditions if you want to see them flourish.
The Red Aglaonema is a beautiful reddish-pink tropical plant that thrives in bright, indirect light. It does require regular watering but can otherwise survive without much assistance.
An aloe vera plant is a succulent originating from the Arabian Peninsula. As a succulent, it requires little watering and is a slow-growing plant that can stay in its pot for up to three years.
Working with Visiting Angels
Need help caring for your houseplants or assistance running to your nearby plant shop to pick out a few new additions? Visiting Angels can help! Our professional caregivers work with seniors to help them live safely and comfortably at home by providing daily assistance like light housekeeping, medication reminders, and personal grooming.
Our Gadsden office services those in Blount, Marshall, Etowah, and the surrounding counties. If you'd like to learn more about our services or schedule a complimentary consultation, send us a message or call 256.507.0083.