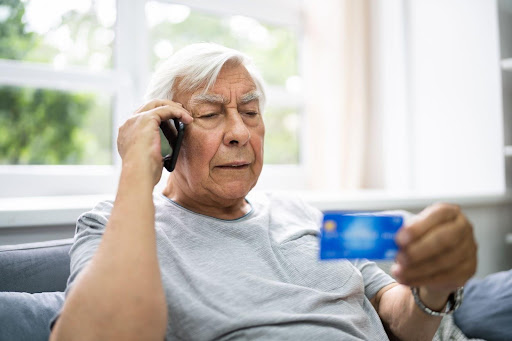 Staying Clear of Online Scams
Online scams in our technologically advanced world are growing increasingly common, leading to billions of dollars lost. Unfortunately, most financial scams target older adults, impersonating government officials, credit card companies, and sweepstakes.
Don't let yourself fall victim to a scam. Learning more about how scams work and what to look out for can significantly reduce your risk of online fraud.
What is an online scam?
An online scam is a form of fraud when someone tries to contact you to get money or personal information. The most common online scam occurs via email. Some scammers will send emails claiming they are important and need you to send them money. More sophisticated scammers will send emails pretending to be a service or company you use, such as your credit card company. The email will claim an unauthorized payment, and they need you to provide personal information, such as your credit card number or account password, to dispute the charge.
Another way scammers attempt to steal information is through popups. When you navigate to a webpage, a popup window will appear on your screen saying you've won something and you need to fill out the information on the screen to claim your prize. Once you enter the data, it goes to the scammer, who can use the details you've provided to steal your identity.
How do I know if it's a scam?
If you're one of the millions of Americans online receiving multiple emails and messages daily, it can be challenging to determine what is a scam and what is legitimate. Below are a few red flags to consider when deciding on the legitimacy of an email.
It's random and unexpected
If you've called your credit card company because you locked yourself out of your account, and they send you a password reset email while you're on the phone with them, that's likely not a scam. However, if you get a password reset email or another message asking you to log in to an account, such as a bank or credit card, and you haven't requested the email or had recent communication with the company, it's likely a scam. You can report the email as spam and remove it from your inbox.
They're asking for personal information
Never share personal information online. If you receive a message asking for personal information and don't know the person or company requesting it, don't send it. There is no reason for someone to need your social security number, bank information, or credit card number.
The scammer uses poor grammar
Scammers are growing savvier, and scam emails are unfortunately becoming more convincing every day. However, professional correspondence should have proper spelling and grammar. If you notice a lack of punctuation, poor spelling, or other grammatical errors, that's a red flag.
The tone quickly becomes threatening
If you get a suspicious email or message from a potential scammer, it's always best not to respond. However, suppose you interact with the individual, believing it may be a legitimate message. In that case, you should stop the conversation and report the message as spam or fraud if the scammer starts making threats, refusing to answer basic questions, or changing to an aggressive tone. All of these actions are to intimidate you.
Trust your gut
If something sounds too good to be true or doesn't feel right, trust your intuition and assume it's a scam. The IRS or other government entities will never email or send you social media messages. They will also never require you to confirm personal information online. The same goes for most reputable companies or brands. You should never have to share personal information online, and if there's the slightest doubt that something is not legitimate, it most likely is not.
Working with Visiting Angels
We're not necessarily tech and scam experts at Visiting Angels, but our caregivers are happy to offer an extra set of eyes on scams to help keep you safe online. Our professional caregivers also assist with light housekeeping, meal preparations, transportation, personal grooming, and medication reminders.
Our Gadsden office serves those in Blount, Marshall, and Etowah counties. If you live in the area and want more information about our at-home care services, send us a message or call 256-507-0083.