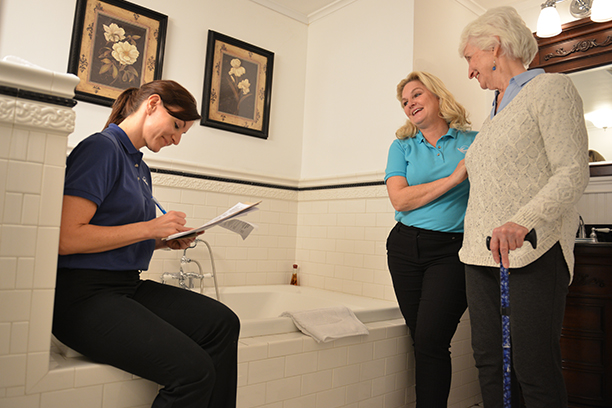 Our Experience
Elderly Home Care Referrals in Gainesville FL
At Visiting Angels® Gainesville, we understand that inviting someone into your home to provide elderly home care services isn't easy. You are putting your trust into a person you hardly know and hoping they will be experienced and compassionate enough to help your loved one thrive. It's a difficult time without the additional stress of wondering what kind of elderly home care provider you will be assigned.
Choosing Visiting Angels Gainesville for an elderly home care referral means you won't have to worry about the quality of care your loved one receives. Our caregivers are among the most experienced in the Gainesville area. We believe each of the families we work with deserves to receive the best care from professional, experienced care providers. That's why we don't hire anyone for the Visiting Angels Gainesville provider network who isn't already well versed in the skills needed to provide elderly home care services.
Trusted Elderly Home Care Providers
Each individual who is a part of the Visiting Angels Gainesville nurse registry has gone through an extensive interview process. We ask each of our referred caregivers to provide a comprehensive list of references from previous clients, health care professionals, agencies, and other sources that can vouch for their character, quality of care and commitment to their clients. Only after we are confident potential caregivers are experienced and compassionate will we invite them to join our nurse registry.
When you choose Visiting Angels Gainesville as your elderly home care referral agency, you will be an active participant in choosing your caregiver. After learning about your needs, your loved one will be matched with several potential caregivers our service coordinators believe will be a good fit for their needs. We then ask you to meet with and choose the caregiver with whom you are most comfortable. We believe our clients receive the best care when they are comfortable with their care provider. Allowing you to choose your care provider allows for the best opportunity for a personal connection and superior care.
Families searching for experienced elderly home care providers trust Visiting Angels Gainesville FL. Call our office today to learn more about our elderly home care referral services.
Serving Gainesville and Surrounding Communities FL License: 299995222
Visiting Angels
GAINESVILLE, FL
2830 NW 41st St. Suite K
Gainesville, FL 32606
Phone: 352-372-2000
Fax: 352-372-1200
299995222