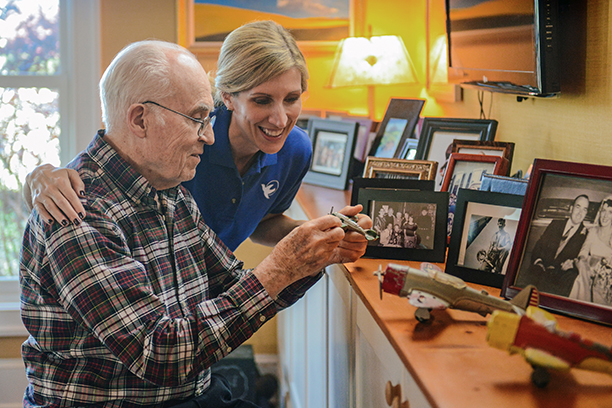 Home Care for Alzheimer's Patients in Gaithersburg, MD and Surrounding Areas
Visiting Angels can help you understand the benefits of home care for Alzheimer's patients in Gaithersburg, Potomac, Rockville, Germantown and Montgomery Village, MD
The most common type of dementia, Alzheimer's disease is a chronic neurodegenerative disorder characterized by a gradual decline in memory as well as thinking and reasoning skills. The Alzheimer's Foundation of America estimates more than 5 million people in the US are affected by this cognitive condition.
Although Alzheimer's remains incurable, opting for professional home care for Alzheimer's patients and employing certain treatment methods can help slow down the symptoms of the illness and improve the overall quality of life for those with this type of dementia.
Warning Signs of Alzheimer's Disease
If you are a family caregiver, it is important that you are able to recognize the warning signs in your loved one's behavior that can point to the onset of Alzheimer's.
For this reason, keep a close watch on these 10 warning signs of Alzheimer's disease:
Memory loss that disturbs daily life.

Challenges in planning or solving problems.

Problems with completing familiar tasks

.

Confusion related to time and place.

Difficulty understanding visual images and spatial relationships.

Trouble with remembering, pronouncing or writing words accurately.

Frequently misplacing items.

Poor judgment and/or poor physical appearance.

Withdrawal from work or social activities.

Rapid changes in mood or personality such as depression, anxiety agitation.
Caring for a Loved One with Alzheimer's in Gaithersburg
Should you happen to notice any of the above mentioned signs, have your mom or dad evaluated and screened for Alzheimer's as soon as possible. In the worst case scenario, if your loved one is diagnosed with Alzheimer's, you will need a strategy on how to manage their condition in the future. Furthermore, you should also consider professional home care for Alzheimer's patients.
These basic steps can help you get organized and provide better Alzheimer's care for your loved one:
Educate yourself about the condition – great sources can be found online at Alzheimer's Association and The Alzheimer's Foundation of America.

Take care of Mom or Dad's financial and legal affairs, as well as long-term care planning issues.

Schedule respite visits or regular home care for Alzheimer's patients.

Employ cognitive stimulation whenever possible – play your loved one's favorite music, solve puzzles and play memory games together.

Build a strong support system consisting of family members, close friends, expert caregivers and even neighbors.
If your loved one has been diagnosed with Alzheimer's disease or any other type of dementia for that matter, call our Gaithersburg, MD office today. You are not alone – Visiting Angels is here for you!
Serving Gaithersburg, Germantown, Potomac, and the Maryland Suburbs
Visiting Angels
GAITHERSBURG, MD
971A Russell Ave
Gaithersburg, MD 20879
Phone: 301-355-6578