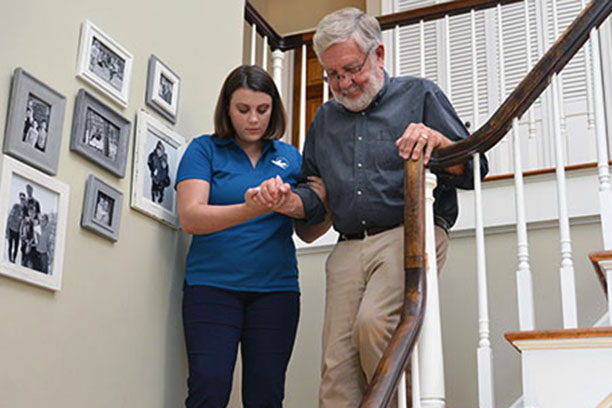 How Elderly Home Care from Visiting Angels Gaithersburg Helps Seniors Avoid Fall-Related Risks
Our fall prevention program ensures that seniors in Gaithersburg, Potomac, Rockville, Montgomery Village and surrounding areas in MD stay safe at home with the help of an elderly home care provider
Falls are among the leading causes of loss of independence among seniors. With chronic conditions, reduced mobility and other physical challenges of aging, seniors are more prone to falls than younger adults. To make matters worse, seniors also need more time to recover after a fall – and some older adults never regain their independence after sustaining an injury as a result of a fall.
As elderly home care experts can tell you, falls do not just impact a person physically – they take a toll on their emotional and social well-being too. Many seniors also develop a fear of falling and therefore avoid leaving the house. This results in declined social invitations and missed opportunities to spend time with family and friends. When this happens, seniors can begin feeling anxious, lonely, isolated, sad and angry. Keeping all of this in mind, it comes as no surprise that falls can drastically change a person's quality of life – for the worse!
That's why at Visiting Angels, our elderly home care services include fall prevention services for seniors in Gaithersburg, Potomac, Rockville and surrounding Maryland communities. Our caregivers can help your loved one identify fall-related risks at home and take the right steps toward creating a safer environment. That way, your loved one can live out their golden years in their own home without fear.
The Consequences of Falls for Seniors in Gaithersburg and Surrounding Communities
Here's how even one fall can alter a senior's life:
One in three seniors falls and one in five seniors sustains a serious fall-related injury (broken bones, broken hip, concussion and more) every year.
Seniors who fall once are more likely to fall again.
More than 800,000 people end up in hospitals due to fall every year.
Recovering from a fall can take up as much as one year in a long-term care facility and many seniors who fall never go back home again.
Preventing Falls with Elderly Home Care Services from Visiting Angels Gaithersburg
However, falls do not just happen and can be prevented with the right precautions. Namely, falls are usually caused by one or several risk factors. Risk factors can include a physical condition, medical issue or unsafe home environment. For instance, some of the most common risk factors are poor vision, arthritis, dehydration and lack of grab bars in the bathroom. By knowing what fall risk factors are, you can easily identify them in your loved one's surroundings and thus prevent falls.
Preventing falls and injuries is still challenging for seniors. At Visiting Angels Gaithersburg, we are dedicated to educating older adults, their families and caregivers about how to minimize the risk of falls and improve senior safety at home.
To learn more about our fall prevention solutions and other elderly home care services, contact our Gaithersburg, MD office today!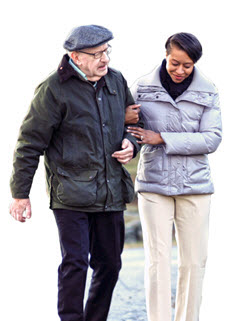 Serving Gaithersburg, Germantown, Potomac, and the Maryland Suburbs
Visiting Angels
GAITHERSBURG, MD
971A Russell Ave
Gaithersburg, MD 20879
Phone: 301-355-6578
Download Your Free Safe & Steady Fall Prevention Resource Guide today.