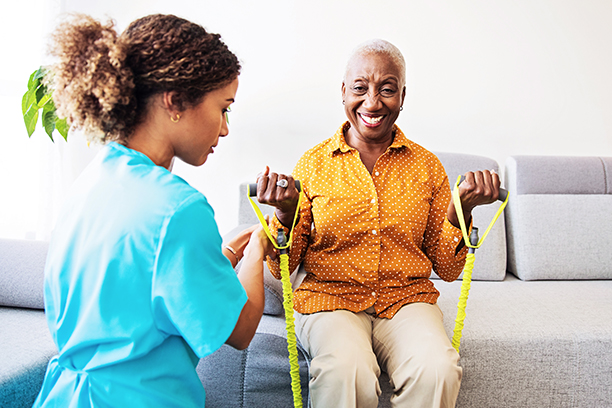 Recovery Care from Qualified Caregivers in Gaithersburg, MD and Surrounding Areas
With our experienced and dependable caregivers, seniors in Gaithersburg, MD and surrounding areas can recover from surgery in the comfort of their home
As we get older our bodies change and in senior years they do not recover as quickly as they used to. Older adults have a harder time fighting off colds, they bruise easily and it takes them longer to recover from simple injuries. If your senior loved one is recovering from surgery, it may take them weeks or even months to get back on their feet.
Since they will most likely need extra help during this period, you should consider in-home care services. With help from Visiting Angels Gaithersburg, your loved one can recover safely at home where they will receive assistance from our compassionate and trained caregivers.
How Our Home Care Services Help Seniors in Gaithersburg and Surrounding Communities Recover
Older adults who are recovering after surgery most often need help with even the simplest daily tasks, such as meal preparation, housekeeping or bathing. We understand that every senior has different needs, which is why we offer personalized care plans. Before we start providing care, we will visit your loved one, learn about their care needs and create a personalized care plan based on their situation.
At Visiting Angels Gaithersburg, we offer various home health care services, such as:
Meal Preparation: During their recovery, your loved one will have access to nutritious meals. Our home care providers can go shopping, assist with meal preparation and make sure your parent maintains a well-balanced diet.
Mobility Assistance: With help from our home health care providers your loved one will be able to move safely around their house, without putting their recovery at risk.
Bathing and Grooming Assistance: Our caregivers can help your loved one with maintaining personal hygiene by assisting them with bathing, grooming, toileting and other personal needs.
Housekeeping: We will make sure that your parent recovers in a clean living environment.
Medication Reminders: We can ensure that your senior takes their medications according to doctor's orders.
Long-Term Care for Ongoing Support
After surgery some seniors end up with long-term care needs. If your parent needs more time to recover, we can provide long-term home care services as well. Our caregivers can provide overnight monitoring, companionship and transport when needed.
If you believe your loved one could benefit from our home health care services during their recovery, please contact our Gaithersburg, MD office today.
Serving Gaithersburg, Germantown, Potomac, and the Maryland Suburbs
Visiting Angels
GAITHERSBURG, MD
971A Russell Ave
Gaithersburg, MD 20879
Phone: 301-355-6578