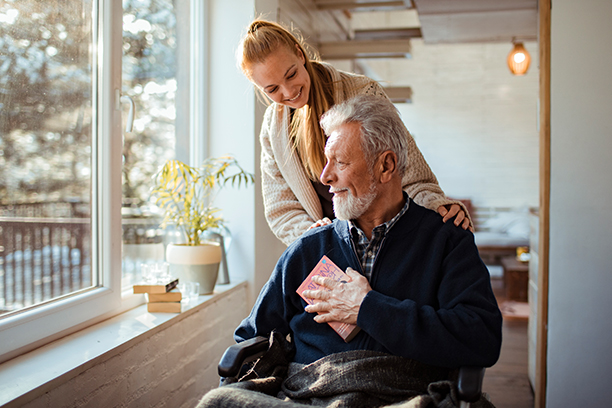 How Transitional Care in Grove City Reduces Hospital Readmissions
Ready-Set-Go Home with Transitional Care
After being in the hospital with a serious illness or injury, your loved one likely needs professional support with the recovery process at home. Transitional care delivered by care professionals in Grove City may be a solution that enables your loved one to make a successful recovery and get back into the groove of their daily life at home. At Visiting Angels® Galloway, we've created a comprehensive transitional care program called Ready-Set-Go Home to support seniors like your loved one during and after their hospital discharge.
What Causes Hospital Readmissions in Grove City?
You may be familiar with the fact that many seniors are readmitted to the hospital soon after they've been discharged. With almost 20% of seniors on Medicare returning to the hospital within only thirty days of their discharge, it's clear that this issue is widespread. Not only can a return to the hospital be stressful for elderly adults, but it can also decrease their chances of ultimately regaining their independence and previous abilities.
For many older adults, rehospitalization results from being unable to care for themselves during the critical recovery period. They may feel exhausted or lack the strength or coordination to complete essential tasks like showering, cooking, or keeping their home tidy. They may also lack the mental wherewithal to remember complicated medication schedules or implement other instructions from their physicians, such as maintaining a specific daily intake of fluids or performing certain exercises.
How Transitional Care Helps Seniors in Grove City
Our Ready-Set-Go Home program takes a multi-faceted approach to care during this sensitive time in the lives of both seniors and their concerned family members. First, we visit seniors at the hospital to learn more about their condition, collaborate with family caregivers, and lay out a plan for home care. Following the senior's discharge, we implement that care plan by providing the specific services they need to have full support during their recovery. As an extra layer of care and protection, our office staff work behind the scenes to facilitate the logistics of caregiving and keep an eye on innovative data-gathering tools that alert us to high-risk situations.
Reach out to Visiting Angels Galloway today for details about how we can help your loved one during their upcoming discharge with our transitional care services. We'll coordinate with you to arrange a free consultation in Grove City, Columbus, Galloway, Hilliard, London, Plain City, West Jefferson, or a neighboring area.
Serving Franklin, Madison & Pickaway Counties and the Surrounding Areas
Visiting Angels
GALLOWAY, OHIO
3797 Broadway
Grove City, OH 43123
Phone: 614‑80 ANGEL (614‑802‑6435)
740-837-4592 (London)
Fax: 614-334-9522