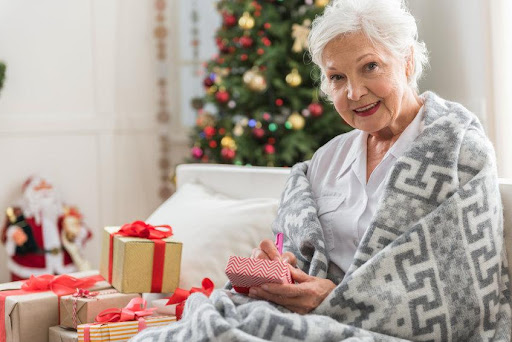 Gifts To Brighten Your Senior's Holiday Season
Finding the perfect gift for your loved ones can be very tricky–especially when we're talking about our seniors! They've had a life full of treasures already, and to give them boring, redundant gifts (yes, we're talking about socks and ties!) is hardly satisfying.
Our seniors deserve more than just any old gifts. A little creativity, heart, and some sneaky Santa's elves work on your part means a thoughtful, meaningful gift your senior loved ones will adore. Our Visiting Angels Garland, Texas, team works with hundreds of seniors, and we have some great ideas for holiday gifts that will put a smile on their faces.
A Personalized Present
A nostalgic gift would be to digitize old family photos and albums. Your loved ones will be able to relive some wonderful memories, and they'll also have an archive that the entire family can keep and cherish. In addition to maintaining memories forever, those photographs can be turned into more thoughtful and useful gifts, such as puzzles of family pictures, a calendar, or perhaps a photo blanket.
Game Nights
What's better than just gifting your seniors a game which they like? Planned game nights, of course! Stock up on classic board games, card games, and new favorites for all ages – don't forget to put in their favorites. Talk to relatives and close friends ahead of time to set up a monthly or weekly game night that works with your loved one's schedule. Also, you can give your seniors a calendar along with the games, with the dates and times highlighted so that they don't forget. Game nights are also fun for your senior's Visiting Angel Garland caregiver!
Technology
While many seniors disregard technology, there are many things that they will end up liking, and some of them are pretty useful. We all know that technology is improving daily, and now there are many senior-friendly gadgets available to make life easier and fun for them. If they like hearing the news and all sorts of entertainment, then a smart speaker is the perfect gift. If your senior loved one is a huge fan of books, a kindle is a great idea. You can purchase audiobooks as well as e-books, so if they don't feel like reading a few chapters, they can close their eyes and listen!
Experiences
Our seniors cherish family experiences and time spent together, so they often appreciate experiences instead of receiving gifts. Some ideas include road trips, theater performances, or a big group dinner with your extended family. Think about what they're interested in and then come up with an idea to create some beautiful memories together.
Brighten Your Holiday with Visiting Angels Garland
Your loved ones deserve all the appreciation in the world. And the holiday season is the perfect time to make sure your senior loved ones have fun and feel loved. We believe one of the greatest gifts you can give your loved one is peace of mind. Schedule a consultation with our team to discover how we can help your senior loved one age in place and enjoy an independent life with help from a Visiting Angels Garland caregiver!
Do you know someone who is interested in kicking off the new year with a new career? We are always looking for caring and compassionate people to join our Visiting Angels Garland team! Start the application process today by giving us a call at 214-703-8123.