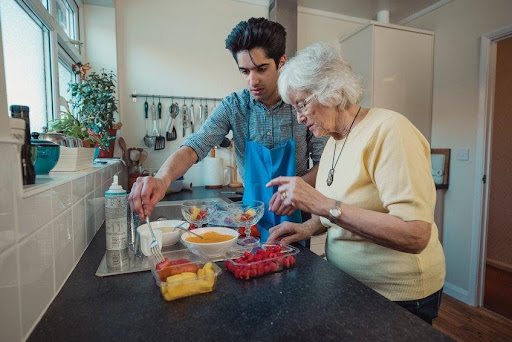 Six Ways to Promote an Active Lifestyle Among Seniors
Individual lifestyle choices determine successful aging. One of the main factors behind successful aging is having a physically active lifestyle. A research study in JAMA found that a structured exercise program for seniors can cut the risk of significant mobility disability.
Discover some of the best ways our Visiting Angels Garland team supports their clients in a healthy lifestyle. Find out how these tips can help your family!
Setting Goals
Your senior loved ones are likely less mentally sharp and have lost a little mojo. It is essential to provide them with confidence boosters to keep them active throughout the day. One way is to help them set goals that give them something to focus on each day. Easily attainable goals like "walking for 30 minutes a day" can eventually translate into more physical goals.
Engaging In Social Activities
Seniors who socialize more enjoy a better lifestyle than those who aren't socially active, including better health and improved mood. Socializing and making friends have many benefits for seniors, and it can improve mood and benefit the immune system, which decreases the chance of colds and flu. The more socialized individuals are, the better they will feel.
Senior-friendly Sports
Sports requiring manageable levels of physical extension are incredible for aging adults. For instance, golf is a sport that promotes a healthy lifestyle among seniors–and some socialization with fellow golfers. Even if the adult decides to use a cart, it requires a moderate level of walking on the grass, perfect for seniors willing to get healthy. Tennis, bowling, or casual games of Frisbee are a few other low-impact options.
Stretching for Flexibility
As we age, we tend to lose muscle tone, flexibility, and bone strength, and light stretching daily can help maintain a senior's musculoskeletal system. It also improves flexibility, which reduces the likelihood of injuries, enhances the range of motion, and reduces muscle soreness. Seniors can also opt for yoga, Pilates, and Tai Chi to improve their overall flexibility.
Eating Healthy, Nutritious Food
As we age, our calorie needs decrease, but our nutrient needs don't. A decrease in caloric intake can reduce physical activity, affecting mental health. We need to make sure that as we age, we are eating fewer calories and taking advantage of the nutrients available to us at crucial times of our lives.
Nap For At Least An Hour Per Day
The benefits of napping are well documented. It's not just about the energy boost you get after a nap, and it's also about improving your brainpower. The cognitive benefits of napping are significant for older adults who are more susceptible to memory loss, slower thinking, and difficulty concentrating.
Visiting Angels Garland Support for Active Seniors
Our Visiting Angels Garland staff are ready to help your senior loved ones live a happy, active, healthy lifestyle from the comfort of their own homes. Aging in place is vital for more and more seniors as a preferable way to enjoy their golden years, and our team can help with medication management, companion care, respite care, and so much more. Learn more about our team and how we can help your family!