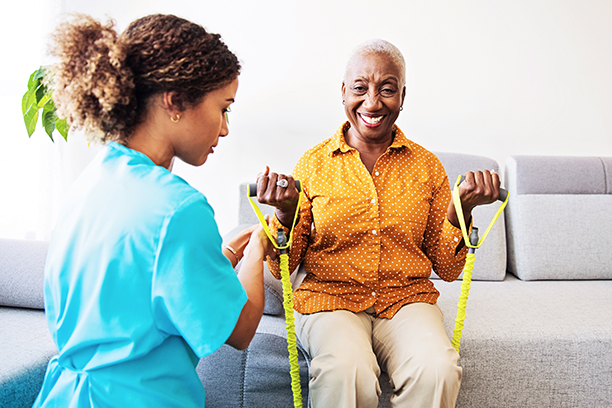 In-Home Alzheimer's Care and Dementia Care in Gastonia, NC
With Visiting Angels in-home Alzheimer's care and dementia care, seniors in Gastonia, Cramerton, Shelby and Kings Mountain, NC can receive the memory care they need in the comfort of home
One in nine people over the age of 65 has Alzheimer's, and a third of those over 85 have it. That's according to statistics from the Alzheimer's Association. So if you have a loved one who is suffering from the disease, you're certainly not alone. However, when you're facing such a scary diagnosis and the difficult decisions that lie ahead, it can feel like your world has been turned upside down. Visiting Angels Gastonia can help. As a leading provider of Alzheimer's care and dementia care services, we have one simple mission: To help your loved one stay independent, healthy and at home for as long as possible.
Recognizing the Signs of Dementia or Alzheimer's Disease
When your loved one is first diagnosed with a memory-related disease like dementia or Alzheimer's, you may not notice much of a difference in their behavior. Plus, if you don't live nearby and see them regularly, it can be hard to tell when the disease is progressing. But at Visiting Angels Gastonia, we know from experience that there are common signs indicating it may be time to bring in specialized in home dementia care services. Some of these include:
Progressive forgetfulness and periods of confusion with time or place
Accidents and injuries, including bruises, abrasions and burns
Inability to perform familiar daily tasks, like driving or preparing meals
A disheveled appearance and/or a lack of personal hygiene
Significant weight loss, suggesting your loved one is forgetting to eat or not preparing healthy meals
Loss of interest in hobbies, friends, or social activities
Changes in mood and personality, including apathy and depression
Increased anxiety and agitation
How In-Home Dementia Care Can Help
Visiting Angels caregivers provide compassionate, experienced support from a team that puts the "care" in Alzheimer's care. From our commitment to flexible scheduling and 24/7 availability, to our personalized care plans and responsive, dependable and compassionate Angel companions, we strive to provide Gastonia-area seniors with the very best Alzheimer's care, in the very best place possible: at home.
Over the years, your loved one has been there for you. Now it's your turn to be there for them. Let Visiting Angels Gastonia help ensure they receive excellent care, while living freely, safely and with as much independence as possible.
If you're ready to discuss in home care services for your loved one, please call our Cramerton, NC office today. We can help you overcome the daily challenges that come with Alzheimer's – and give your loved one the care and high quality of life they deserve.
Serving Gastonia, Kings Mountain, Cramerton, Belmont, Mount Holly, Shelby and Surrounding Areas in NC
Visiting Angels Gastonia, North Carolina
102 Hidden Pastures Dr #202
Cramerton, NC 28032
Phone: 704-469-4207