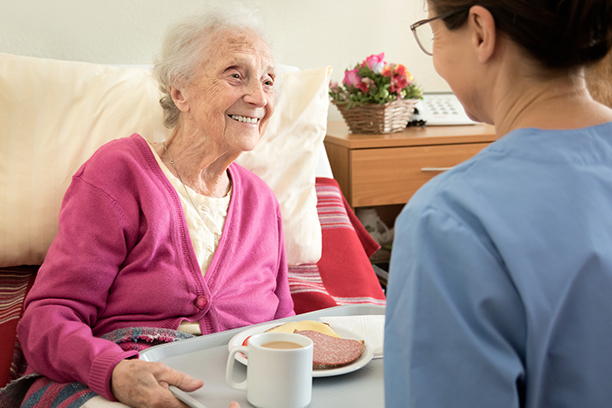 FAQs About Senior Care Services from Visiting Angels Gastonia
We know that searching for a caregiver for your loved one can be stressful. By enlisting the help of Visiting Angels Gastonia, you will receive the greatest variety of home care options in the area. Here are some frequently asked questions to help aid you in your consideration.
What kind of services do you provide?
We offer many in-home senior care services that are designed to assist our clients in their everyday tasks and activities. This can range from light housekeeping, running errands, medication reminders, preparation of food or simply spending quality time with our clients.
What does "aging in place" mean?
"Aging in place" refers to a senior's choice to grow old in their own homes. Many seniors who choose to remain at home often need some level of assistance with everyday tasks in order to make independent living possible. With in-home care from Visiting Angels Gastonia, aging in place becomes less of a hassle. Thanks to our dedicated caregivers, your loved one will receive assistance with everyday tasks, a caring presence who will watch out for their safety and well-being and a reliable companion who will enjoy spending time with them.
Do you provide senior care services in assisted living facilities?
Yes, we do. Our skilled caregivers are available to visit those who are in nursing homes, rehabilitation centers and similar facilities in Gastonia, Cramerton, Kings Mountain, Shelby, Belmont and surrounding areas. We will coordinate with your facility's care team to provide you with the best care possible.
Can I change the schedule even though I already have appointments?
Yes. We understand that needs are always changing and are flexible in scheduling care at whatever time is most convenient for you.
How do I get started with in-home care from Visiting Angels Gastonia?
We start the process by connecting you with an intake coordinator who will set up a free in-home consultation for you or your loved one. During that time you'll be asked about what home care options you need, what concerns you have and what schedule and budget is best for you. After the initial consultation, it usually takes about 2 to 3 business days to match you with a caregiver and begin your visits.
How long does it take before your caregiver comes into my home and start with senior care services?
It usually takes up to 48 hours for one of our caregivers to start assisting your senior loved one. However, it's also possible for services to be provided the same day.
How do I know I can trust a caregiver?
All of our caregivers undergo very in-depth background checks, employment eligibility checks and are required to have at least two years of prior experience in the field of caregiving. We evaluate them periodically throughout working for us and work to match you with a caregiver who is most compatible with your interests and your personality.
What will it be like to have someone in the house?
We want you to feel comfortable especially being in your own home so we work to match you with a caregiver who will best understand you and your needs. We, as caregivers, are very respectful of your boundaries and privacy. We will carry ourselves as formal guests in your home at all times.
What do caregivers from Visiting Angels Gastonia do?
Our caregivers provide a vast variety of one-on-one senior care services. This can range from personal care, social care, transportation, meal preparation, light housekeeping and spending quality time with you or your loved one. The caregiver will tailor your experience to your needs.
What won't caregivers do?
Since Visiting Angels Gastonia strictly provides personal home care services, our caregivers cannot provide any sort of medical care, such as wound care. Our caregivers are also not authorized to administer any medication to our clients, but they will provide reminders to seniors to take their medication.
Do caregivers bring their own meals?
For 24-hour home care clients, the client provides food for both themselves and their caregiver. Our caregiver will then prepare the meals with the client and to their liking.
What do caregivers do when they are not attending to my loved one's needs?
When the caregivers are not in the direct vicinity of their clients, for whatever reason – whether that be them wanting time alone or privacy, the caregivers may spend that time occupying themselves with a book or doing housekeeping.
Where do caregivers stay in the house?
This is up to the client. Our caregivers are very respectful of our clients and their personal space.
What do caregivers expect from their clients?
Our caregivers expect nothing from the client and are there to help the client with their needs only.
What do I need to do so a caregiver can do their job?
Our trained caregivers are self-starting and trained to assist in any situation. They do not expect you to do anything other than receive care.
What happens if a caregiver is sick and can't come in?
We have many other caregivers on our team who are available to substitute for your primary caregiver if this happens.
Who do caregivers report to?
They report to our Client Service Coordinators each day.
Who is responsible for paying the caregivers employment taxes?
Our caregivers are all on payroll and are required to pay their taxes.
Are caregivers insured and bonded?
Yes, our caregivers are all insured and bonded.
What payment options do you accept?
Visiting Angels Gastonia accepts private pay options, veterans' benefits and long-term care insurance. Since our home care services are non-medical, our office does not accept Medicaid. Our team will work with you to create a personalized care plan so your loved one can get the care they need at a price your family can afford.
If you are interested in learning more about our senior care services, please contact our Gastonia, NC office at 704-825-3350.
Serving Gastonia, Cramerton, Kings Mountain, Shelby, Belmont and Surrounding Communities in Gaston and Cleveland Counties
Visiting Angels
GASTONIA, NC
1544 Union Rd Ste B
Gastonia, NC 28054
Phone: 704-825-3350