Caregiver in Covina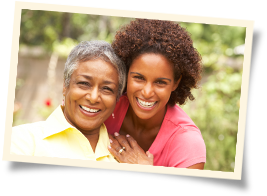 At Visiting Angels® Glendora, we're guided by a mission to help our clients live with dignity, comfort, and joy. With flexible caregiver services in Covina and the surrounding communities, we're deeply attuned to the complex challenges of aging. We know these challenges look different for everyone. Our care plans are always defined by each client we support, for a truly unique approach to caregiving.
When you choose our agency, you're choosing a dedicated care professional for your loved one. The same familiar professional will always be responsible for supporting your family member with every visit. This means our care providers will always have a clear sense of your loved one's specific needs and preferences—and if anything changes, they'll be right there to help. We make it easier for seniors to live independently, and to thrive while doing so.
Why the Right Caregiver is so Important
For your loved one, the right caregiver can transform their overall quality of life. When home care is delivered with sensitivity and compassion, it's easier for seniors to admit they need help. Our team takes the time to build rapport, so your family never has to feel like a stranger is administering support. Instead, your loved one's care will be handled by a trusted professional who knows, appreciates, and understands them.
We offer comprehensive support to seniors including:
Around-the-home assistance. Tidying, changing linens, and otherwise maintaining a cleanly home.
Daily grooming. Gentle, conscientious help with bathing, grooming, and toileting.
Emotional and mental support. Offering mental and social stimulation with lively conversation and empathy.
Personal safety. Assisting with fall prevention, mobility support, and clients returning home from the hospital.
Health and wellness. Preparing meals, grocery shopping, and medication reminders.
Improving Your Loved One's Quality of Life
We know many families try to take on caregiving, but it's tough to juggle with everything else on your plate. With a professional caregiver, you'll have someone on-hand who is knowledgeable about home care and who brings enormous patience and warmth when providing support.
We can visit as frequently or infrequently as needed, no matter where your loved one is located:
Covina
San Dimas
Monrovia
And throughout the Glendora area
With Visiting Angels Glendora, there's always a helping hand and a dedicated caregiver close by. To set up an assessment in Covina, you can get in touch with us today.