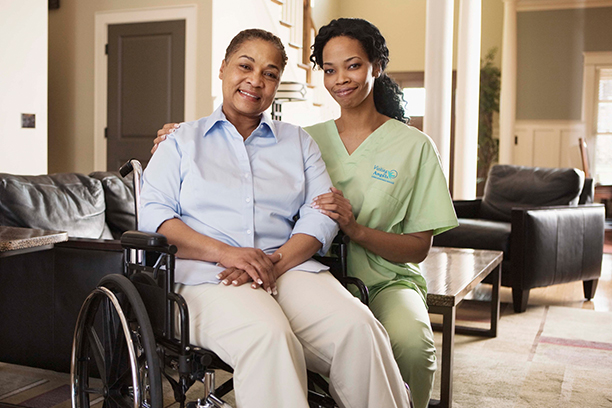 Home Care in San Dimas
Visiting Angels® Glendora provides home care to help seniors in San Dimas enjoy a higher quality of life in the place where they feel most comfortable — home. From day-to-day assistance with household activities to consistent and enriching companionship, our trusted team of caregivers is here to help.
Our caregivers are compassionate care professionals who've been hired based on their abilities, experience, and their commitment to providing dignified and compassionate care. As part of our thorough vetting process, each caregiver must also pass a criminal background check.
With our home care services, your loved one will receive the one-on-one support they need to thrive while continuing to live in the home and community they love. We offer our personalized services for seniors in San Dimas, Duarte, Glendora, Monrovia, La Verne, and Covina.
About Our Home Care Services in San Dimas
Nothing can compare to the comforts of home. Our in home care services make it possible for seniors and people with disabilities to enjoy these comforts with less risk and greater reward.
To ensure your loved one's comfort and improve their quality of life, our caregivers can assist with important tasks they struggle with or neglect altogether. The services we offer include:
Diet monitoring and meal preparation
Walking and transferring assistance
Grocery shopping and other general errands
Light housekeeping tasks
Medication reminders
Regular, engaging companionship
Temporary coverage of family caregiver duties
As a family caregiver, you know there's no such thing as a set timetable or a weekend off. Our home care is available 24/7, every day of the year. We offer flexible care plans and scheduling, so you'll receive the help you want however and whenever you need it.
Whether you need long-term or short-term assistance, we'll be there for you. To get started with home care, we'll lead you through the following process:
Having an initial conversation about your situation, our services and scheduling, and our home care rates
Booking an in-depth assessment of your loved one's condition and preferences, attended by the relatives involved in their care
Developing a custom home care plan for your loved one based on our assessment and your family's input
What is Personal Care?
Unfortunately, many basic tasks at home can get more difficult and potentially risky with age. As part of our personal care services, we can take over these activities or help your loved one manage them more comfortably.
Our caregivers can make daily life simpler and less stressful for older adults and people with disabilities. The personal care services we offer include:
Dignified bathing, toileting, and dressing assistance
Running errands and picking up groceries or prescriptions
Planning and preparing balanced meals
Providing reminders for prescribed medications
What is Companion Care?
Many older adults withdraw from their communities, especially if they can't move as easily or think as clearly as before. This puts them at a greater risk for isolation and depression, which can have a real effect on their quality of life.
With companion care, we strive to keep seniors socially and emotionally engaged through regular caregiver visits. As well as helping your loved one with everyday tasks at home, we offer the comfort of a warm, familiar presence. Our caregivers can check in on your loved one and bring more joy into their day through activities and conversation.
What are Alzheimer's Care and Dementia Care?
At Visiting Angels Glendora, our caregivers understand the many ways cognitive decline can make daily life more daunting for local seniors. Older adults may feel lost, agitated, and distressed as they grapple with common symptoms like memory loss. At this time, it's all the more important for seniors to have a stable, familiar routine they can rely on.
We offer Alzheimer's care and dementia care to help seniors remain where they feel safest — and most like themselves. If someone you love has been diagnosed with Alzheimer's disease or dementia, we can provide the calm and consistency they need to feel at ease.
Our compassionate caregivers can act as a stabilizing presence while assisting your loved one with tasks they may neglect. We can be there to monitor your loved one's day-to-day condition, keep them mentally engaged, and make sure they take their medications, go to their appointments, and eat regular meals.
What is Respite Care?
As a family caregiver, it can feel like your job is never over. However, as devoted as you are to your loved one, there are limits to how far you can push yourself. We offer one-time and recurring respite care to give family caregivers throughout the San Dimas area the time they need to rest, recover, and tend to their own needs.
Whether it's for an hour, an evening, or a week, our caregivers can step in so you can finally care for you.
What is End of Life Care?
The end of life transition is a very sensitive time. We offer compassionate end of life care for those at this stage to reduce their comfort and free them to focus on what matters most.
Let us lift some of the weight from your shoulders. We can provide emotional and physical support services for your loved one and your family. Our caregivers can also take on everyday tasks at home, so you can focus on being a family.
What is Palliative Care?
We offer our holistic palliative care service to individuals with terminal conditions. Our aim is to promote their comfort, enrich their lives, and address their needs through a spiritual, physical, emotional, and social lens.
We Offer Hospital Discharge Assistance in San Dimas
When your loved one returns home from a hospital stay, the first month can be the riskiest. Our Ready-Set-Go-Home program is designed to reduce rates of hospital readmission. Our caregivers can help your loved one transition from the hospital and follow the steps needed to safely heal at their home in the San Dimas area.
We Offer Fall Prevention Support in San Dimas
Falls account for most serious injuries among seniors. To help your loved one reduce their risk and continue to live comfortably at home, we offer our Safe and Steady Fall Prevention program. We can determine your loved one's risk factors and suggest changes to their space and routine. Our caregivers can also provide walking and transferring support.
Get Started with Our Home Care in San Dimas Today
We're here to make your loved one's life simpler, safer, and more fulfilling. Call (626) 852-3302 today or contact us online to request an assessment for home care in the San Dimas area.
Serving Glendora and Surrounding Communities
Visiting Angels
GLENDORA, CA
131 E Foothill Blvd
Glendora, CA 91741
Phone: 626-852-3302
Fax: 626-852-5569
HCO # 194700609