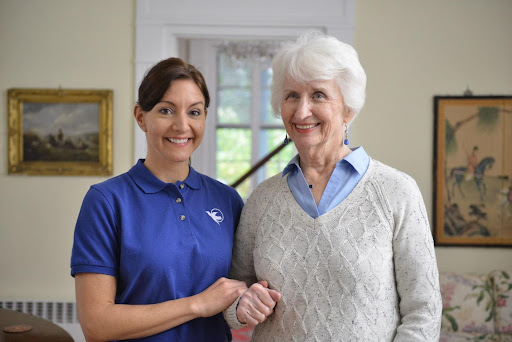 Corporate Skills to Use as a Professional Caregiver
Millions of Americans have left their corporate positions, searching for more fulfilling career paths within the last year. This shift is partly because of what researchers refer to as the Great Resignation. Many former corporate employees are not satisfied with various aspects of their work, and they're hoping to find positions with flexible hours, competitive pay, and, most importantly, a rewarding career.
A rewarding career may look different to everyone. Still, professional caregiving might be a perfect match for those seeking a job that involves helping others and seeing the direct benefit of their work. And even if you don't have a background in caregiving, healthcare, or a related field, there are plenty of skills you've likely developed in a corporate setting that applies to life as a professional caregiver.
Communication
One of the top skills every professional caregiver should have is communicating effectively. Your communication skills refer to how you explain information both verbally and written. In a corporate position, you often speak with coworkers about the progression of different projects or with clients bout your company or services. These communications may happen in person, over the phone, or through email. And the more effectively you can communicate your thoughts and ideas, the better your reputation and relationship with coworkers and customers.
The same concept applies to caregiving. While most caregivers work alone with their clients, you still have coworkers and teammates who rely on your communication to help with their job. You may need to share care plan information with the office staff or a care coordinator to ensure your client is receiving proper care. You may also need to connect with other caregivers who are stepping in to care for your client while away. Strong communication among coworkers ensures everyone in the company is on the same page.
Even more important than your communication with colleagues is your communication with clients, especially when your client is new and you haven't yet built a relationship with them. Whenever you enter a client's home, announce yourself and talk to them about what you're planning to help with that day. Good communication is also about asking questions and listening to your client. Ask for their input and listen if they express concerns. The more you encourage dialogue, the easier it will be to build a trusting bond.
Adaptability
No matter your line of work, nothing goes as planned one hundred percent of the time. Your business may pivot services and require you to rethink how you approach your work in your corporate role. Or you may have a last-minute request from a client that needs fast thinking and a change of plans. Whatever the case, adaptability means you can think quickly and stay flexible to achieve the best results for your work.
There can be unknowns in caregiving, and feeling comfortable adapting to changes can significantly improve your client's quality of care. You may have a client with a chronic condition who suddenly needs to visit the doctor. There may also be days when you show up to your client's home expecting to help with laundry and dinner and discover they are having trouble moving about the house or changing their clothes. Adaptability enables you to address a change and develop a solution in these unknown situations.
Empathy
Empathy is your ability to understand and relate to others. Empathy helps get along and build respectful relationships with other employees in most workplaces. Empathy is also an essential skill for connecting and building trust with clients and customers.
Empathy is a critical skill in caregiving. Aging is challenging for some adults. The body and mind go through tons of changes, putting stress and discomfort on an individual. As a caregiver, you need to remain empathetic with clients. Show them compassion and express that you understand what they are going through. Proper empathy can also help validate their feelings and make them seen and heard by you, their caregiver.
The Visiting Angels Grand Junction office hires part-time and full-time caregivers to assist seniors throughout Grand Junction and the surrounding areas. If you're leaving your corporate role and are ready to put your skills to caregiving, call us at 970.254.8888 or send us your online application.